Wondering which car paint protection you should get? You've come to the right place! Our 2020 Buyer's Guide for the best car paint protection products can help you select the right shield for your paintwork.
Depending on your car detailing experience, available budget, and expected results, you can select the most efficient paint protection for cars.
Whether you're a car enthusiast, car detailing beginner, or seasoned professional, it's best to start off with a few explanations. You'll become familiar with our ranking system and factors, the benefits of car paint protection, and the best product in the market at the moment. All of these details will help you learn a bit more about paint protection items and/or provide useful information to your clients.
So, let's get to it!
Top 10 Car Paint Protection Product Reviews
Explaining the Ranking System
When reviewing a car paint protectant or any item for that matter, we believe it's very important to pay attention to the following four categories: Product quality, customer reviews, product price, and the car paint protection provider's online presence. Here's why:
1. Product quality
As for car paint protection quality, we paid attention to the formulation of the product which has a direct impact on the product's durability and longevity. Also, each product type and brand have different performances and levels of protection. Another element of quality is how easy it is to apply the product.
2. Customer reviews
Customer reviews are a precious source of information as they reveal things like real product quality, quality of customer service, actual shipping times and return policies, and potential issues with the product. It's a known fact that companies tend to inflate their products and services, so reading customer feedback is a smart thing to do.
3. Car paint protection price
Budget is always an important factor and it's often a dealmaker or a dealbreaker. You should be fully aware of what you can expect from a paint protection product from a certain price range. Nevertheless, a high price doesn't always mean high quality, and some products achieve astonishing results regardless of their price.
4. Online presence
The time of the digital economy is now. That's why any company serious about their products and/or services needs to have a well-established online presence. Or to see that they have a clear intention to do so. The same applies to their social media which have long become the dominant touchpoints between customers and brands. It's also a way to see how a company deals with customer queries or complaints, for instance.
Buying Guide For The Best Car Paint Protection
What Are the Benefits of a Car Paint Protection?
The benefits of car paint protection are numerous and if you're considering whether to use a paint protectant or not, please do. Your life will become much easier as you won't have to spend so much of your time and money on car maintenance for one thing. By protecting the clear coat of your paint, you preserve the value of your vehicle. The cherry on top is that your car will look slick, clean, and tight! There's nothing better than the feeling of pride you have while driving a beautiful and well-kept car. Are we right or are we right?
1. Protection:
Depending on the type of car protection product, the clear coat of your vehicle is protected from scratches, scuff marks, rock chips, chemicals, and salt, tree sap, bird droppings, and other harmful elements. In this way, they prevent and/or decrease the diminution or decay of the paintwork.
2. UV damage, Oxidation, or Rust Prevention:
Certain products also incorporate UV blockers in their formulation. These chemicals protect the car against UV paint fade and oxidation and can also restore the color.
3. Cost-Effectiveness:
Once again, the money you invest in car paint protection goes a long way. Clear coat protectants make cleaning and maintaining the car much, much easier, which saves you money on car wash and washing products. In addition, certain paint protectants like ceramic paint coating can last for years which additionally increases the savings. Altogether, this makes applying a car paint protectant cost-effective in the long-run.
4. Exceptional Finish:
All paint protecting items can make the color of your car pop and have a fantastic finish. Thanks to its hydrophobic properties, waxes, for instance, give the car a warm and glossy finish. Car paint sealants are synthetic products and they create a "cool" glow or a cold finish as they call in the car detailing industry. Next, ceramic coatings provide an insane shine and outstanding gloss thanks to their superhydrophobic features. Finally, hybrids sprays or ceramic paint sealants also perform extremely well in this department.
5. All-in-One Protection:
As mentioned before, protective coatings have hydrophobic or water-repellent properties making them ideal for application on any porous surface. Whether it's metal, plastic, glass, trim, or wheels, paint protection for cars creates a defense layer from the elements and different environmental impacts. So, most of the products are all-in-one protection solutions.
Are There Different Types of Car Paint Protection?
We suppose that you're familiar with traditional car paint protection products like waxes. The car paint protectant technology has been developing at a face pace. Today, there are several options:
1. Waxes
These traditional items are plant-based. Typically, they are made from the leaves of the carnauba palm, a palm tree species native to the northeastern regions of Brazil. These organic sealants have great water sheeting features which make the water sheet off a vehicle. As we mentioned, they give that warm glow to the paintwork. As for their durability, they have the shortest lifespan and last only for 2-3 months, and can be washed down with detergents.
2. Synthetic Paint Sealants
Synthetic, polymer-based products were engineered to extend the protection time offered by traditional car waxes. Therefore, synthetic paint sealants protect the clear coat for around 5-6 months and are slightly easier to apply than waxes. If you use a liquid spray form, that is. They can also be removed with washing chemicals.
3. Ceramic Coatings
Ceramic coatings are the giants among the car paint protection products in our opinion. The carrier of their power is the nano ceramic particle technology. The infused SiO2 makes them highly durable products with a lifespan of up to 5 years! They have amazing hydrophobic properties, make car maintenance easier, give a crazy finish to the vehicle, and, unlike waxes and sealants, they certainly do not wash away that easily.
4. Hybrid Solutions
Hybrid spray sealants bring the best of the two worlds, the worlds of synthetic paint sealants and ceramic coatings. They also have SiO2 but far less than ceramic coatings and they usually come in liquid spray form. Moreover, they offer year-long protection and are quite often used to maintain ceramic coatings if they are chemically compatible of course.
5. Car Paint Protection Film
A paint protection film doesn't fall into the same category as the products we've mentioned and we certainly won't include them on our list. These products are applied by paint protection film professionals and are not DIY solutions like all the other car paint protection products. But that's a story for another day.
Now that we've covered these important points, you can easily see why these 10 car paint protection products made it on our list. Here we go!
Top 10 Paint Protection Products For Cars
Armor Shield IX DIY Kit by AvalonKing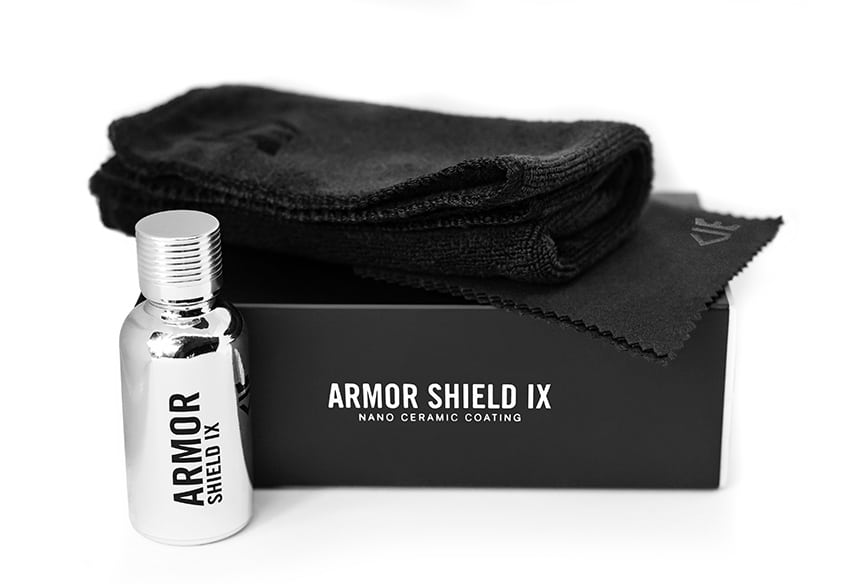 1. Armor Shield IX – by AvalonKing
Choosing Armor Shield IX DIY Kit was a clear-cut decision. This nano ceramic coating by AvalongKing lives up to its name and provides a hard protective layer over your precious vehicle's coat of paint.
The formula of the coating contains around 84% SiO2 which is the ideal amount of silica for a DIY application. Yes, this product provides professional protection and at the same time, it is one of the easiest ceramic coatings to apply according to numerous car detailing experts who have shared their experience with the product online.
The Armor Shield IX DIY Kit comes in premium packaging and contains all the items you need to apply the product. A very important note regardless of the ceramic coating you choose is to carefully and thoroughly clean and prep the car before you use it. In that way, you ensure the optimal effectiveness of the coating for the longest time. Speaking of which, Armor Shield IX protection can last up to 5 years depending on the conditions and car use.
AvalonKing, founded in 2018, created a premium product with superhydrophobic properties that also delivers an impeccable paint shine. And thanks to its self-cleaning properties, car maintenance becomes easier and faster.
Why It's Our Top Pick
PRODUCT QUALITY: The product's powerful formula can protect a vehicle for years. It has powerful hydrophobic properties or, using industry terminology, high water-beading and water sheeting properties. It protects the car against all sorts of contaminants.
CUSTOMER REVIEWS: Whether it's the car detailing professional community or customers who applied the Armor Shield IX themselves, all of them have had a highly positive experience with this ceramic coating for car paint protection.
PRICE: With a price of $69.99, it's a product with the best value for money as you would need a single 30 ml bottle to cover a standard-size car. Plus, the protection goes between 2 and 5 years.
ONLINE PRESENCE: AvalonKing is doing a great job of engaging with their community and prospective customers. On their website alone, they have more than 2100 reviews some of which contain images of cars before and after Armor Shield IX was applied. With over 13.2k followers on Instagram and 4.1k Facebook fans, their community is constantly growing.
Here Are The Facts
Most important features: UV protection, corrosion resistance, scratch resistance, extended durability, high gloss.
Free shipping in the USA and Canada. Worldwide shipping is also possible and free if you buy at least two DIY Armor Shield IX kits.
One 30 ml bottle is good enough for a single coating layer for a regular-size car. Two bottles will be just right for your SUV or truck.
Can be applied on car paint, wheels, fiberglass, vinyl wraps, PPF, and glass of your car, motorcycle, truck, or boat!
CQuartz Kit by CarPro
2. CarPro Cquartz Ceramic Coating Finish
Cquartz ceramic coating finish by CarPro is our No. 2. The ceramic quartz paint protectant by the famous brand has excellent hydrophobic properties and gives a high-gloss finish. Unlike No. 1, it possesses less content of SiO2 which affects the durability of the product. More precisely, one application of the coating lasts for 2 years. The 30 ml bottle kit comes with 1 applicator and 5 suede microfiber cloths which is again, slightly less generous than the Armor Shield IX kit with 1 application sponge, 3 microfiber suedes, a pair of professional nitrile gloves, and 1 microfiber buffing towel.
Why It's Our Second Pick
PRODUCT QUALITY: This is a high-quality ceramic coating used by professionals and car enthusiasts alike because of its nano ceramic technology. Although it can be used as a stand-alone nano-coat, it's recommended to use CarPro's Gliss top coating for enhanced benefits.
CUSTOMER FEEDBACK: Customers seem to be highly satisfied with CQuartz with a 4.5-star review on Amazon.
PRICE: The 30 ml bottle kit is $60.99, while the 50 ml is $78.99 making it a better bargain.
ONLINE PRESENCE: The company has a great social media following of over 31k Instagram and 5k Facebook followers, which is a great presence considering that the company was founded in 2012. There is a great blog section with even better content.
Ceramic Spray Coating Hybrid Sealant by Turtle Wax
3. Turtle Wax Ceramic Spray Coating
In position No. 3, we have a hybrid ceramic paint sealant made by the renowned company Turtle Wax. This is a new and improved formula of this silica spray sealant with infused SiO2 with up to 12 months of protection. When applied, the coat of paint gets a brilliant shine and finish and additional protection from contaminants. The product can be used on different surfaces including glass, headlights, wheels, and trim.
Why It's Our Third Pick
PRODUCT QUALITY: The product's enhanced formula extends its durability and provides year-long protection against all sorts of pollutants. The best results are achieved when a double layer of the Ceramic Spray Coating is applied.
CUSTOMER FEEDBACK: This hybrid sealant by Turtle Wax has over 4k positive reviews on Amazon and a high 4.7-star rating.
PRICE: This is a great value product for $14.97 for a 16 Fl Oz. spray bottle.
ONLINE PRESENCE: Turtle Wax is a well-known company founded in 1941. They have a super impressive Facebook following of more than 800k followers and 45.6k followers on Instagram.
TLC2.0 by The Last Coat
4. The Last Coat
This product belongs to the category of "light" ceramic coatings which means that they are easier to apply and cheaper than the nano ceramic coatings. TLC2.0 is a silica spray sealant for up to 6 months of protection. The product is designed to be used on the car's exterior and interior surfaces. This means that apart from paint, glass, vinyl, and matte surfaces, you can use the product on leather seats, dashboards, and instrument panels.
Why It's Our Fourth Pick
PRODUCT QUALITY: The formula has great chemical protective properties, hydrophobic properties, UV protection, and high gloss and paint slickness. Although it's a quality product, its durability is 6 months only.
CUSTOMER FEEDBACK: Customer satisfaction is pretty clear with over 2k reviews and a 4.6 average on Amazon.
PRICE: This is a good value product for $37.97 for a 16 oz spray bottle.
ONLINE PRESENCE: The Last Coat was founded in 2018 and has an impressive 58.2k Instagram and 19k Facebook followers. Their website has a great Tutorials section where visitors can find step-by-step instructions for applying their products.
Crystal Serum Light by GTECHNIQ
5. GTECHNIQ CSL Crystal Serum
Crystal Serum by Gtechniq is another great quality ceramic coating on our list. It has great UV and oxidation protection mechanisms and gives an exceptional finish. However, the product is usually recommended to be used with EXO UDHC v3 as a top coat to get that extra hydrophobic property, which costs extra of course. Because of that, the application is more demanding and we wouldn't recommend it to detailing first-timers.
Why It's Our Fifth Pick
PRODUCT QUALITY: The product has high chemical resistance features and protects the paintwork against tree sap, tar, and hard water spots.
CUSTOMER FEEDBACK: The product has significantly fewer customer reviews on Amazon. Still, it has a high rating of 4.7 out of 5 stars.
PRICE: The price for a 50 ml bottle of Crystal Serum will set you back for $97.99.
ONLINE PRESENCE: GTECHNIQ was founded in 2001 and has a fairly long tradition in making automotive products. They have a great social media following with 30k and 47.6k people following their Facebook and Instagram pages, respectively.
Q² CanCoat by Gyeon
6. GYEON Quartz Q² CANCOAT
This ceramic paint coating comes in the form of a spray. All you have to do is spray CanCoat on a microfiber towel and wipe it into the paint until you get that great shine, one small area after another. CanCoat has great technology embedded which protects your vehicle's paint against UV, oxidation, bird droppings, road salt, and hydrophobic properties. In addition, this car paint protection product belongs to the "light" category of ceramic coatings.
Why It's Our Sixth Pick
PRODUCT QUALITY: The product has solid durability and it can protect the coat of paint for around 6 months or 10k km or 16k m.
CUSTOMER FEEDBACK: The reviews are positive and customers gave it very high scores which added up to a 4.6-star rating on Amazon. However, some users report that more skill is required to apply the product.
PRICE: This 200 ml can spray goes for $54.99.
ONLINE PRESENCE: Gyeon Quartz debuted in 2012 and has since grown an insane followers base of more than 239k Facebook and 117k Instagram followers. The website offers great details about all of their products.
Hybrid Ceramic Detailer by Meguiar's
7. Meguiar's Hybrid Ceramic Detailer
Another hybrid ceramic paint sealant comes from the lab of the famous company Meguiar's. The product is designed to clean and protect the paintwork from dust and bird droppings. It also has water beading properties and contains SiO2. Detailers use it to enhance the effects of waxes, coatings, and paint sealants. It's a spray-on, wipe-off type of product so it's easy to use.
Why It's Our Seventh Pick
PRODUCT QUALITY: The product is infused with SiO2 so it has great hydrophobic properties. Although it's recommended for the maintenance of existing water-repelling properties, it's a great product for removing contaminants and boosting gloss.
CUSTOMER FEEDBACK: With more than 900 reviews and a 4.6 average rating, it seems to have won great points in the detailing community.
PRICE: The 26 fl. Oz. starts at $14.52.
ONLINE PRESENCE: Meguiar's has been around for more than 100 years. The company has 458k Facebook and 377k Instagram followers. Also, the company's Forum is another place for people to talk about Meguiar's products and more.
Insulator Wax No. 845 by Collinite
8. Collinite No. 845 Insulator Wax
This product belongs to the category of liquid waxes and it's considered one of the company's best-selling products. Collinite engineered a formula for superior gloss and protection which can last between 4 and 7 months. Apart from cars, this liquid wax has many other applications. It is carnauba-based and belongs to the category of DIY products with water-repellant properties which also protect the coat of paint against UV, salt, dust, dirt, grime, bugs, and staining.
Why It's Our Eighth Pick
PRODUCT QUALITY: The product is considered a classic among liquid waxes and it provides a warm and high gloss to the paintwork.
CUSTOMER FEEDBACK: There are more than 2.6k reviews on Amazon of this product which has a high 4.8 rating.
PRICE: The 16 fl. Oz. bottle comes at an $18.94 price.
ONLINE PRESENCE: The Collinite company was established in 1934 and so far, it has won a modest following of 5.7k Facebook and 3.3. Instagram followers.
UV Ceramic Paint Coating by Adam's Polishes
9. Adam's UV Ceramic Paint Coating
Another car paint protection ceramic coating but this time with a twist. Adam's UV Ceramic Paint Coating incorporates Patent Pending Ceramic Glow Technology ™ which is supposed to make ceramic coating application much easier. Under UV light, detailers can easily see where the product was applied and use this advantage to spread the coating evenly. This makes the product ideal for anyone starting with detailing, but it comes at a price.
Why It's Our Ninth Pick
PRODUCT QUALITY: This ceramic coating uses SiO2 technology to provide high hydrophobic properties and protection against UV and other elements for more than 5 years.
CUSTOMER FEEDBACK: So far, the product has received over 200 reviews and 4.6 out of 5 on Amazon.
PRICE: You can purchase a 50 ml bottle of the ceramic coating for a slightly higher price of $80.
ONLINE PRESENCE: The company was founded in 2000 and has since gained more than 155k followers on Facebook and 397k followers on Instagram. The website has a Forum and Learn section with a blog with great car detailing content.
Enigma Ceramic Detailing Wax by Anglewax
10. Angelwax Enigma Ceramic Detailing Wax
We decided to include this high-end wax in our guide although some of you might be a bit shocked by its price. Which completely justifies the high performance of this premium product. Enigma is a hand-applied wax with an amazing formulation which gives the paint surface self-cleaning properties. Also, the gloss you get once you apply it is outstanding, as well as the durability of the product combined with outstanding gloss. Traditionally, carnauba waxes give from 2 to 3 months of car paint protection.
Why It's Our Tenth Pick
PRODUCT QUALITY: The product is made of the finest quality of carnauba and it is handmade. It's highly durable and has great water beading properties.
CUSTOMER FEEDBACK: As you might have guessed, the product doesn't have that many reviews on Amazon but it's certainly a favorite among the professional detailing community.
PRICE: Enigma 250 ml paste would set you back for £179.99 which is around $240. The product is great for show cars, luxury cars, and collector cars.
ONLINE PRESENCE: Angelwax was founded in 2010 and has a modest following on Facebook of over 8.2k followers.
Final Thoughts
That would be our list of the best car paint protection products for 2020 our fellow car enthusiasts. We believe that the top three paint protectants on our list will give you more bang for your bucks compared to the other items. Nevertheless, all the products are of proven quality and high performance. Whether you're looking for an exceptional finish, durability, or superhydrophobic properties, choosing any of the protectants from our buyer's guide will make you an even more proud car owner.