Rust on your car? An absolute nightmare for all car owners! Car rust is a problem that can seriously affect the overall value of your vehicle. Moreover, it's not just an aesthetic problem seen on your car's surface. It is a major issue that can cause long-term damage, car part failure, and serious problems that go far beyond just emptying your pockets.
Can you stop rust on cars? Of course you can! Yes, you can exhale now, there's a solution to it. The basic things you can do are maintaining and cleaning your car regularly, servicing your car at regular intervals so your mechanic can raise the red flag, and addressing small rust spots and treating chipped paint.
Needless to say, the best car rust protection is rust prevention and today there are many products that can keep rust at bay for years! We created this buyer's guide to help both car owners and professionals find the best car rust protection products in the market.
Before we get started, here are a few things you should know about car rust protection.
What are the benefits of car rust protection products?
When you look at the bigger picture, there are four prime benefits of rust protection and prevention products.
Preserve your car's value
Rusted car parts and rusted car surfaces can drop the value of your vehicle heavily. However, if you play your cards well and protect your car in time, you will be able to resell the car at the highest possible price.
Prevent car deterioration
Cars are exposed to all sorts of environmental and driving conditions like harmful UV sun rays, high and low temperatures, moisture, chemicals, and other organic pollutants. If you protect your car against oxidation that can lead to rust, you can prevent premature car part deterioration and failure.
Improve safety
If neglected, rust can cause mechanical failure of affected car parts which can have serious effects on your driving performance, experience, and most importantly, safety. When you address the issue and take all the rust preventative measures, you can drive with ease of mind and enjoy your every car ride.
Save money
This last benefit of effective car rust protection is savings. Stopping rust on cars will help you save money on additional or unplanned repairs, car part replacement, or repairing damaged paintwork.
Are there different types of car rust protection products?
Yes, and they can roughly be divided into the following three categories:
Paint primers
Prime paint, primer, or undercoat is the first layer of coating applied to a surface like a car surface for instance. Primers are engineered to protect the material that is being painted, improve the adhesion of the paint to the surface, and better the durability of the coat of paint.
Rust removers
As their name suggests, these products are used to remove rust from a damaged surface but also to prevent rust creation. When you apply a rust remover, it chemically bonds to rust particles which can then be removed by washing the part with a car cleaning product and water.
Inhibitors
Once again, a pretty self-explanatory term. Oxidation affects the top layer of a surface and leaves micro- or nano-size crevices which then become entrance spots for contaminants and water. Inhibitors chemically bond to a surface, fill those cracks, and create a protective hard layer over the surface. Thanks to their formulation, they are considered to be the best rust inhibitor products.
The best products that can help you stop rust on cars for 2020 and beyond
Explaining the ranking system
With so many products available, we had to come up with a ranking system that would help us spot the most efficient anti-rust products. Here's why we decided on these four categories:
1. Product quality
Product technology or chemical composition plays a major role in product quality. There are many products that still use rust-proof formulations but also those that use relatively new and innovative technologies that provide improved and extended protection.
2. Consumer feedback
Customer reviews are places where you can feel the real pulse of the product and the company and their service. Consumer feedback quite often plays a decisive role in our purchasing decisions, especially if you can find product experience proof like before and after images.
3. Price
Another very important factor that affects our choices and buying decisions. We paid special attention to the value proposition compared to the product price.
Make sure to check for the latest prices as they might differ from the ones we found at the time of writing the Buyer's Guide.
4. Online presence
We believe that companies who are confident about their products and services have a well-established online presence. In today's digitally- and internet-driven economy, we can all agree that this is a must.
Now that you know how we made the selection, let's see what are the most effective products that can stop rust on cars!
1 Armor Shield IX DIY Kit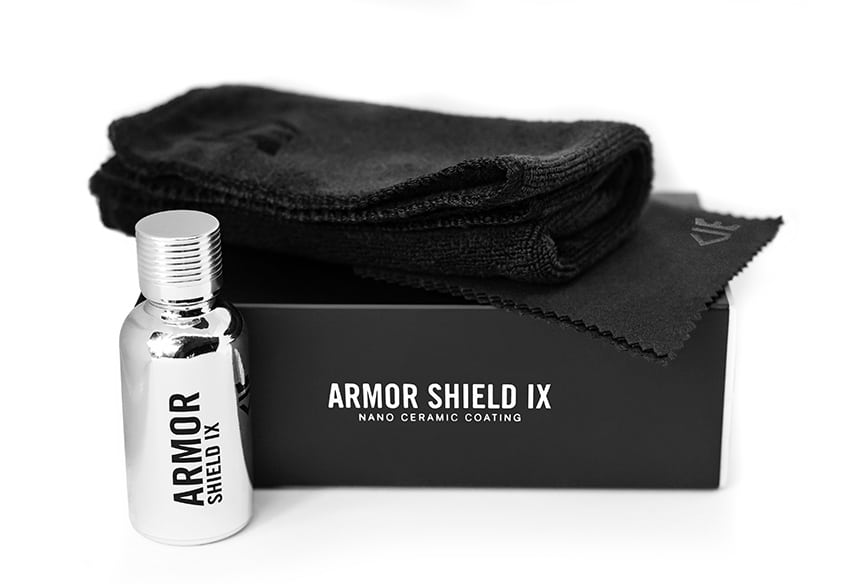 1. Armor Shield IX DIY Ceramic Coating
Armor Shield IX DIY kit is a ceramic coating by AvalonKing. In our opinion, this is a product that provides optimal protection against rust and other harmful elements. The product uses nano-technology and 84% SiO2 formulation which make it the most effective rust protectant for metal surfaces, glass, plastic, and other types of materials. When applied, the nano-particles of SiO2 create a clear and hard protective coating over the treated surface. In that way, the target surface gets a superhydrophobic shield which prevents moisture and water from clinging to the surface. Together with other contaminants, water simply sheets of the surface which also makes cleaning and maintenance much easier. Armor Shield IX is the absolute winner when it comes to the value for money as a single application of this ceramic coating can provide up to 5 years of protection! Plus, it's a DIY product that is easy to apply which means that all skill level car owners and professionals can use the product.
Why It's Our Top Pick
PRODUCT QUALITY: The product uses nano SiO2 technology which is responsible for the ceramic coating's hydrophobic properties, durability, and lifespan.
CUSTOMER FEEDBACK: Armor Shield IX has around 2.2k customer reviews on the company's website. Customers confirm that the product is easy to apply, has great water beading and water sheeting properties, and that it restores paint gloss and shine. With 96% of customers who would recommend the product, Armor Shield IX also nails this category.
PRICE: A price of a 30 ml bottle kit of Armor Shield IX with 1 application sponge, 3 applicator suedes, 1 pair of nitrile gloves, and 1 microfiber buffing towel goes for $69.99. This is the best value for money as the product can last up to 5 years with proper and regular maintenance.
ONLINE PRESENCE: AvalonKing ticks all the online presence boxes. It has a great website with a lot of details about their product and a blog with great content for any car enthusiast. Also, they have a highly engaged Instagram community with 13.9k followers.
Here Are The Facts
One 30 ml bottle is enough for a regular size car.
Special offers: "Buy 1, get 2nd 50% off" and "Buy 2, get 1 free".
Free shipping for the US and Canada. Free shipping worldwide for 2+ kit purchases.
One of the best consumer-grade DIY ceramic coating formulas on the market.
WD-40 Specialist Long-Term Corrosion Inhibitor
2. WD40 Specialist Corrosion Inhibitor Spray
WD-40 corrosion inhibitor is a specialist formulation by this world-famous brand. It is designed to protect metal parts and surfaces against rust and corrosion. This rust inhibitor is a highly affordable product that has a wide range of applications including the automotive industry. The long-lasting effects of WD-40 Specialist Corrosion Inhibitor stretch up to 1 year for outdoors and 2 years for indoors applications. This is an essential product in any workshop used by professionals for preventative care for parts that operate in highly humid environments and high temperatures.
Why It's Our Second Pick
PRODUCT QUALITY: Proven product quality and durability. The formula used by car professionals and car enthusiasts alike.
CUSTOMER FEEDBACK: WD-40 Specialist Long-Term Corrosion Inhibitor has a 4.7-star rating on Amazon and over 830 reviews from customers worldwide.
PRICE: A 6.5 oz. spray bottle costs $9.89 which makes the product very budget-friendly.
ONLINE PRESENCE: As expected, the famous American brand manufactured by the WD-40 Company founded back in 1953 has a fantastic online presentation and website content. They have an impressive Facebook community of over 285k followers, 27.5k followers on Instagram, 10.5K Twitter followers, and close to 8.2m views on YouTube.
POR-15 Rust Preventive Permanent Coating
3. POR-15 Rust Preventive Coating
POR-15 Rust Preventive Coating by POR-15 company is made for direct application on metal surfaces. Once applied, it creates a hard finish or layer and prevents rust from forming again. The coating is sensitive to UV light and requires a top coating if the surface is exposed to direct sunlight for extended periods. It has a lead-free formula and fuel and oil-repellent properties, as well as acids and alkalis resistance. This product is widely used by car professionals as it creates a permanent moisture barrier. It's recommended to apply the product following the POR-15 3-Step System (clean, prep, coat).
Why It's Our Third Pick
PRODUCT QUALITY: Product quality and formulation incorporate top anti-rust technology making the product highly effective and popular among customers.
CUSTOMER FEEDBACK: A high-quality product with 4.7 out of 5 stars on Amazon and over 4.3k reviews. Several customers recommend buying smaller cans as the product can start hardening relatively quickly.
PRICE: One US gallon or 3.78 liter can goes for $179.96.
ONLINE PRESENCE: POR-15 is a famous brand by Paint Over Rust Products, Inc. founded in 1923. Their website offers great content, their Facebook community counts over 197k followers while around 10.7 people follow them on Instagram.
Rust-Oleum Rust Reformer
4. Rust-Oleum Automotive Rust Reformer Spray
Rust-Oleum Rust Reformer is a rust protection spray designed for metal surfaces. It's applied directly over rusty surfaces which means that the rust doesn't require sanding before the surface becomes rust-proof and paintable. The formula is oil-based and requires between 20 and 40 minutes to dry. The product requires 24 hours to cure after which a topcoat can be applied. Another industry favorite as it saves some time and effort in the rust removal process and easy to apply thanks to its spray form.
Why It's Our Fourth Pick
PRODUCT QUALITY: Rust Reformer oil-based formula is engineered to chemically bond with the rusted surface.
CUSTOMER FEEDBACK: This popular rust remover has over 3.4k reviews and a 4.6- star rating on Amazon.
PRICE: A pack of 6 10.25-ounce sprays goes for $39.48.
ONLINE PRESENCE: Rust-Oleum is a well-known company with a heritage spanning almost 100 years. They have a solid website with a special subsection with automotive products. The company has over 114k Facebook and 71.4k followers on Instagram.
VHT Rust Convertor
6. Rust-Oleum Professional Grade Rubberized Undercoating Spray
Another effective rust protectant by Rust-Oleum with a professional-grade tag. This product is ideal for application on bare or primed metal underbodies. It can be used on all vehicles including cars, trucks, trailers, and RVs, and protects the surfaces against harmful impacts of water, salt, and chemicals. It needs 1 hour to cure and dry and is easy to apply thanks to the user-friendly spray technology. Undercoating Pro Grade creates a rubberized layer on the applied surfaces. Apart from preventing corrosion and rust, it's also used to deaden sounds and reduce road noise.
Why It's Our Sixth Pick
PRODUCT QUALITY: High-quality formula with a very short drying time. Prevents rust formation and creates paintable metal surfaces.
CUSTOMER FEEDBACK: A 4.6 out of 5-star rating on Amazon which is a current average from more than 2.7 customer reviews.
PRICE: A 15-ounce spray bottle costs $6.97.
ONLINE PRESENCE: As mentioned above, a famous brand in the industry with a very good online presence and impressive social media following.
Fluid Film Powerful Rust & Corrosion Protection
7. Fluid Film Powerful Rust & Corrosion Protection
Powerful Rust & Corrosion Protection by Fluid Film protects all metal surfaces from rust and also lubricates all moving parts. It has a wide range of applications and can be applied to vehicles. The formula protects the treated surface against the damaging effects of water and moisture under regular and industrial operating conditions. The product can also be used for loosing and de-rusting nuts, bolts, shafts, and other parts that easily get damaged.
Why It's Our Seventh Pick
PRODUCT QUALITY: The product's efficient formula consists of processed wool-way, highly refined petroleum oils, and selected agents with anti-corrosion properties.
CUSTOMER FEEDBACK: The overall rating of the product on Amazon is 4.7 out of 5 stars calculated from around 700 ratings.
PRICE: The price of a one-gallon or 3.79-liter can is $37.99.
ONLINE PRESENCE: Fluid Film is a company that has been in business since 1943. They have a website that could provide more content for users. Their Facebook community has over 20k followers.
3M Professional Grade Rubberized Undercoating
8. 3M Professional Grade Rubberized Undercoating
Professional Grade Rubberized Undercoating by the famous 3M brand and company is a rust protective spray designed for application on cars, trucks, and recreational vehicles. It can be used on vehicle underbodies, under the hood, wheel wells, trunks, quarter panes, interior fenders, and boat trailers as it protects the treated parts against corrosion, water, and salt. When sprayed on, it easily sticks to the surface and creates a black rubberized protective coating which also reduces road noise. This is a high-quality asphalt-based spray coating which provides long-term protection and seals the surface against moisture and pollutants.
Why It's Our Eighth Pick
PRODUCT QUALITY: Unique asphalt-based formula prevents moisture or dirt from affecting the target surface and creates rust. Specially designed for the automotive industry.
CUSTOMER FEEDBACK: A high 4.6 out of 5 stars on Amazon as an average of 230 ratings in total.
PRICE: The 16-ounce spray bottle costs $55.95.
ONLINE PRESENCE: 3M is a company founded in 1902 so their well-established online presence and website do not come as a surprise. Their social media following is staggering with close to 4.5m followers on Facebook, 1.4M followers on Twitter, 178k followers on Instagram, and over 7.5m views of their YouTube channel.
CRC White Lithium Grease
9. CRC White Lithium Grease Spray
White Lithium Grease by CRC is an anti-rust spray used for various applications including automotive. It has great heat and water resistance properties This is a lithium-based formula which contains rust and oxidation inhibitors. Thanks to its white color, it is very easy to determine whether the surface has been properly treated.
Why It's Our Ninth Pick
PRODUCT QUALITY: Unique formula and rust and oxidation inhibitors make this protectant ideal for application in various industries.
CUSTOMER FEEDBACK: Another highly-rated product on Amazon with 4.6 out of 5 and a total of 134 global ratings.
PRICE: The 10-ounce spray bottle goes for $15.99.
ONLINE PRESENCE: CRC Industries is a company founded in 1958 and specializes in products for different industries. They have a great website with a lot of useful video content. CRC has a modest social media following with more than 12k Facebook and 9.7k Instagram followers.
Henkel Loctite Naval Jelly Rust Dissolver
10. Henkel Loctite Naval Jelly Rust Dissolver
Loctite Naval Jelly Rust Dissolver by Henkel is a heavy-duty solution for parts that are heavily rusted. The formula is quick and requires between 5 and 10 minutes to dissolve rust on metal surfaces like iron and steel. Can be applied in cars, vehicles, bicycles, tools, and other metal elements. Once the Naval Jelly Rust Dissolver removes the rust, the surface can be prime-painted or top-coated to protect it from moisture and rust. The product can be sprayed or brushed onto a surface.
Why It's Our Tenth Pick
PRODUCT QUALITY: A famous brand with proven high-quality products including the Rust Dissolver.
CUSTOMER FEEDBACK: The product has a slightly lower scoring compared to other products in our Guide with 4.4 out of 5 stars on Amazon and a total of 121 customer ratings.
PRICE: The 236 ml container starts at $8.69.
ONLINE PRESENCE: Loctite is a brand that started building its reputation in 1956. The brand has a massive online presence and a Facebook community of more than 123k followers.
Conclusion
We hope that now you have all the insights into products that can help you prevent and stop rust on your car. There are many primers, rust removers, rust inhibitors, and sprays that effectively safeguard any car surface or car part against the damaging effects of rust. Products should be selected on a case-by-case basis and according to your available budget and time of course. One thing is certain and that is that rust formation is something that can be prevented and/or treated. The key to effective car rust protection is regular maintenance and a carefully selected product that can ward off rust and protect the value and performance of your vehicle.