Rust on your car? An absolute nightmare for all car owners! Car rust is a problem that can seriously affect the overall value of your vehicle. Moreover, it's not just an aesthetic problem seen on your car's surface. It is a major issue that can cause long-term damage, car part failure, and serious problems that go far beyond just emptying your pockets.
Can you stop rust on cars? Of course you can! Yes, you can exhale now, there's a solution to it. The basic things you can do are maintaining and cleaning your car regularly, servicing your car at regular intervals so your mechanic can raise the red flag, and addressing small rust spots and treating chipped paint.
Needless to say, the best car rust protection is rust prevention and today there are many products that can keep rust at bay for years! We created this buyer's guide to help both car owners and professionals find the best car rust protection products in the market.
Before we get started, here are a few things you should know about car rust protection.
What are the benefits of car rust protection products?
When you look at the bigger picture, there are four prime benefits of rust protection and prevention products.
Preserve your car's value
Rusted car parts and rusted car surfaces can drop the value of your vehicle heavily. However, if you play your cards well and protect your car in time, you will be able to resell the car at the highest possible price.
Prevent car deterioration
Cars are exposed to all sorts of environmental and driving conditions like harmful UV sun rays, high and low temperatures, moisture, chemicals, and other organic pollutants. If you protect your car against oxidation that can lead to rust, you can prevent premature car part deterioration and failure.
Improve safety
If neglected, rust can cause mechanical failure of affected car parts which can have serious effects on your driving performance, experience, and most importantly, safety. When you address the issue and take all the rust preventative measures, you can drive with ease of mind and enjoy your every car ride.
Save money
This last benefit of effective car rust protection is savings. Stopping rust on cars will help you save money on additional or unplanned repairs, car part replacement, or repairing damaged paintwork.
Are there different types of car rust protection products?
Yes, and they can roughly be divided into the following three categories:
Paint primers
Prime paint, primer, or undercoat is the first layer of coating applied to a surface like a car surface for instance. Primers are engineered to protect the material that is being painted, improve the adhesion of the paint to the surface, and better the durability of the coat of paint.
Rust removers
As their name suggests, these products are used to remove rust from a damaged surface but also to prevent rust creation. When you apply a rust remover, it chemically bonds to rust particles which can then be removed by washing the part with a car cleaning product and water.
Inhibitors
Once again, a pretty self-explanatory term. Oxidation affects the top layer of a surface and leaves micro- or nano-size crevices which then become entrance spots for contaminants and water. Inhibitors chemically bond to a surface, fill those cracks, and create a protective hard layer over the surface. Thanks to their formulation, they are considered to be the best rust inhibitor products.
The best products that can help you stop rust on cars for 2020 and beyond
Explaining the ranking system
With so many products available, we had to come up with a ranking system that would help us spot the most efficient anti-rust products. Here's why we decided on these four categories:
1. Product quality
Product technology or chemical composition plays a major role in product quality. There are many products that still use rust-proof formulations but also those that use relatively new and innovative technologies that provide improved and extended protection.
2. Consumer feedback
Customer reviews are places where you can feel the real pulse of the product and the company and their service. Consumer feedback quite often plays a decisive role in our purchasing decisions, especially if you can find product experience proof like before and after images.
3. Price
Another very important factor that affects our choices and buying decisions. We paid special attention to the value proposition compared to the product price.
Make sure to check for the latest prices as they might differ from the ones we found at the time of writing the Buyer's Guide.
4. Online presence
We believe that companies who are confident about their products and services have a well-established online presence. In today's digitally- and internet-driven economy, we can all agree that this is a must.
Now that you know how we made the selection, let's see what are the most effective products that can stop rust on cars!
1 Armor Shield IX DIY Kit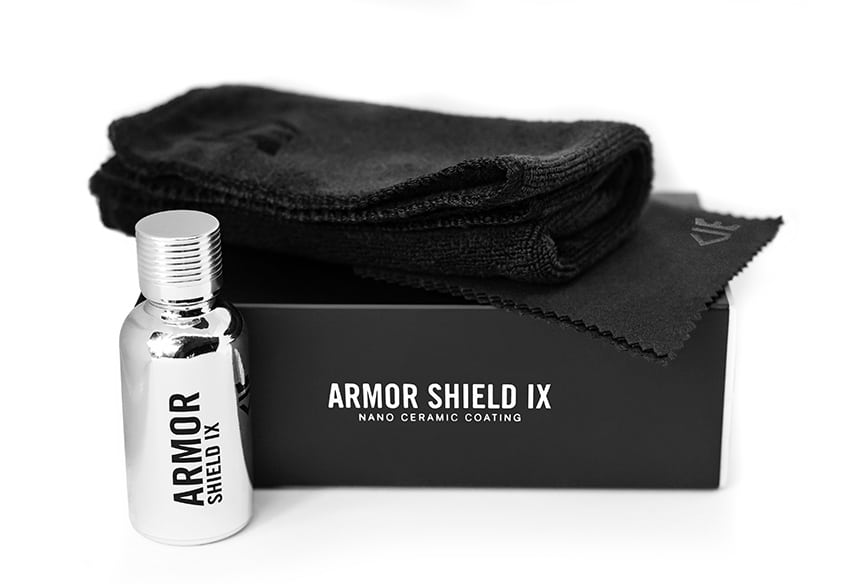 1. Armor Shield IX DIY Ceramic Coating
Wraparound tread gives a rugged look and increases puncture resistance
Deep two-step sipes extend tread life and increase performance on wet roads
Tiered side grooves for more predictable cornering.Max Single Load(lbs):2601
7-8% wider footprint than the competition for increased road contact and grip
4 ply construction
WD-40 Specialist Long-Term Corrosion Inhibitor
2. WD40 Specialist Corrosion Inhibitor Spray
Coats metal parts to lubricate and protect against rust and corrosion by blocking out air and...
Recommended for preventative maintenance or for protection in corrosive environments, such as hot...
Included straw creates a precision stream of lubricant for controlled application and fastens to the...
Non-drying lubricant does not run and says where you spray it. 50-state VOC compliant and NSF...
WD-40 Brand believes in creating high-quality products that will not fail in extreme conditions....
POR-15 Rust Preventive Permanent Coating
3. POR-15 Rust Preventive Coating
✅ WHY CHOOSE POR-15 RUST PREVENTIVE COATING – POR-15 is the gold standard in high performance...
✅ CURED BY MOISTURE – The secret strength lies in the curing process. Unlike most paints that...
✅ APPLICATION - Remove grease, oil, and other foreign substances using POR-15 water-based Cleaner...
✅ WHEN DO I NEED THIS – Automotive, Farm, industrial, commercial marine, and construction...
✅ OUR SATISFACTION COMMITMENT – At POR-15 we strive to bring the ultimate in rust prevention....
Rust-Oleum Rust Reformer
4. Rust-Oleum Automotive Rust Reformer Spray
Use on any rusty, metal surface to Instantly convert rust to a flat black, paintable surface that is...
Oil based formula creates a bond with rusted surface that can be easily painted
Dries tack free in 20-40 minutes, allow 24 hours before applying topcoat
Unique formula transforms rusted surfaces saving time and effort sanding rust all the way down to...
Any-angle spray technology allows the can to be sprayed in any direction, even upside down
VHT Rust Convertor
Fluid Film Powerful Rust & Corrosion Protection
3M Professional Grade Rubberized Undercoating
8. 3M Professional Grade Rubberized Undercoating
Multi-purpose undercoating may be applied to cars, truck and recreational vehicles
Sound deadening properties help reduce road noise
Asphalt-based product is excellent for wheel wells, quarter panels, interior fenders, under the hood...
Protects the undercarriage of vehicles from rust and abrasion
Aerosol dispenser allows for easy spray-on application
CRC White Lithium Grease
9. CRC White Lithium Grease Spray
CRC INDUSTRIES: A market leader that offers impeccably designed chemical solutions to maintain,...
WHITE LITHIUM GREASE: This great provides superior lubrication and durability in any weather or...
DURABLE FORMULA: This 50 state compliant grease creates a tough, high viscosity film, and features...
APPLICATIONS: Great for use on hinges, locks, overhead door tracks, open gears, chains, cables,...
PRODUCT SPECIFICATIONS: White Lithium Grease is available in a 10 wt oz. aerosol can.
Henkel Loctite Naval Jelly Rust Dissolver
10. Henkel Loctite Naval Jelly Rust Dissolver
Removes Rust: Heavy duty formula removes rust from iron, steel, and other ferrous metals
Fast Acting: Works in 5 to 10 minutes for quick project completion
Easy Cleanup: Water-soluble formula cleans up easily with water
Works On: Metal surfaces such as iron and steel—great for iron railings, grills, cars, lawn...
Simple Application: Can be sprayed or brushed for use on large or small areas
Conclusion
We hope that now you have all the insights into products that can help you prevent and stop rust on your car. There are many primers, rust removers, rust inhibitors, and sprays that effectively safeguard any car surface or car part against the damaging effects of rust. Products should be selected on a case-by-case basis and according to your available budget and time of course. One thing is certain and that is that rust formation is something that can be prevented and/or treated. The key to effective car rust protection is regular maintenance and a carefully selected product that can ward off rust and protect the value and performance of your vehicle.