The days of using dish soap or laundry detergent to wash your ride are long gone. While this may have been the method taught back in the day, today's automotive paints and clear coats require dedicated car shampoos and soaps to remove debris. However, with so many different car shampoos on the market – how do you determine which one is the best?
Car wash soaps and shampoos have come a long way in recent years. But there are a few that have proven to be better than others – with some offering advantages for specific types of cars, paints, and users. We have an article for you if you are looking for the best Car Wash Soaps that will give your car the shine like never before!
To ensure you have the right information to determine which car shampoo is best for you, let's start by breaking down the different types of car wash shampoos and soaps.
Understanding the Different Types of Car Shampoos & Soaps
There are four types of shampoos or soaps that are recommended by auto detail experts:
Conventional Car Wash Soaps: The conventional soap or shampoo is a plain car washing formula without any added wax, additives, or agents. In most cases, it's non-scented – but can have a slight aroma or specific coloring agents.
Conventional Car Shampoo with Conditioner: A paint conditioner or 'polish' is added to treat the surface of the clear coat.
Car Wash Shampoo with Wax: This is the second-grade of car wash shampoo. It starts with the similar type of conventional car wash soap but also adds a car wax. The wax sticks to the clear coat and is 'buffed' into the paint during the drying process.
Non-Rinse Car Wash Shampoo: This is the newest type of car wash product. The no-rinse formula is applied, then dried off – without rinsing off with water.
What are The Top 6 Car Shampoos for 2020?
Now that we've explained the different types of car wash shampoos used, let's break down the top 6 car shampoos for 2020 – and provide you a few tips for using them correctly.
A Few Tips for Using these Products
Now that you have a few options to consider, the next step would be putting them to good use. Noted below are a few important accessory items that you should definitely have in your car care arsenal.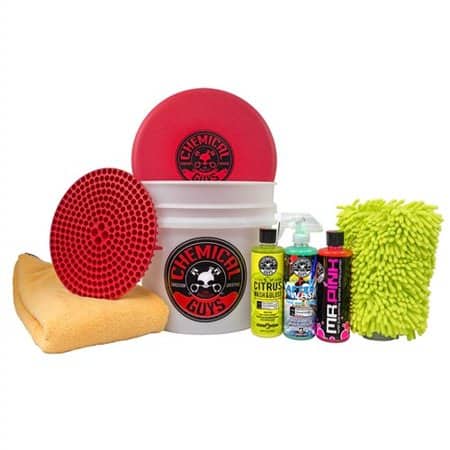 A high-quality sponge or microfiber wash mitt: Washing a car correctly starts by using the right materials. At the top of this list is the sponge or wash mitt made from microfiber, wool, or sheepskin. The wash mitt should always be firm enough to wash the vehicle, but soft enough to reduce scratching. It's also important to resist using the circular motion. Always go side to side or front to back – and alternate frequently to reduce swirl marks and keep your car clean and looking like a new car.
Wash Buckets: A good wash bucket is nice – but two is essential for proper car washing. The first bucket should be used for soapy water – while the second should be used for clear rinsing water. You should also only use these buckets for washing your cars, and not for draining liquids or any other use.
Scrub Brush: This is what you should use on tires and wheels. Do not use your car wash mitt as you'll coat it with brake dust – which will seriously scratch your paint's clear coat.
Drying Towels: There are several products that are recommended for drying, starting with a chamois, water blades or squeegees or microfiber towels. One thing you don't want to do is use compressed air – as air lines contain oil, which will be spread all over your car.
How to Properly Wash Your Car
Cleaning your car is a process that takes time, specific steps, and using the right equipment to avoid damaging your paint. If you're looking to keep your car looking clean, without out using a lot of car polish and wax products, start by following these general steps for cleaning and washing a car.
Step 1 – Pre-Wash
Before you begin to wash the car, you'll want to ensure that your car is cool – especially the engine and the outer body. If you can park it in shade for at least 30 minutes, that should be good enough to bring the surface temperature to optimal levels. Once this has been completed, start by gathering all of your car washing supplies, and spray the entire car with water from a hose.
Step 2 – Start with Cleaning Wheels
Once the entire car has been pre-washed with water, begin the washing part with your four wheels. If you are using a wheel washing formula or specific brushes, it will loosen up brake dust, which will wash onto the body. By washing the wheels first, brake dust will not be left on the clean body.
Step 3 – Make sure to use the Right Ratio of Car Shampoo to Water
After you've washed your tires and wheels, it's time to prepare your wash bucket. It's essential to use the correct ratio of car wash shampoo to water – for optimal use. Mixing too much soap can leave streaks and cause damage to the paint.
Step 4 – The 2 Bucket Method
As described above, you should use two buckets – one for the soap mix, the second for a clean, rinsing water. Watch the video above from The Chemical Guys for instructions.
Step 5 – Wash in Sections
When you wash the car, you should always wash in small sections (like a door or quarter panel at a time). This will permit you to complete each section (except the drying portion as shown in the video above). You should also wash in a sideways, top to bottom method (again as demonstrated in that Chemical Guy video).
Step 6 – Complete a final rinse and dry
Once you've completely washed and rinsed each section, you should complete a final rinse with clean water. Then you should proceed to drying your car with the recommended drying towels, and materials. You want to complete this as quickly as possible to avoid water drying on the car.
What Can you Do to Protect Your Car?
While many auto detail experts recommend using car wax and polish after washing, a great product to consider using is a Nano-ceramic coating like Armor Shield IX or Ceramic Pro. Utilizing nano-technology, this anti-scratch ceramic coating forms a strong glass-like protective layer above your paint. It not only helps to protect the clear coat and paint from exposure to UV light, acid rain, chemicals, bird droppings, sap, and road grime, but it makes future washes much easier. Plus, it leaves an unbelievable shine that can't be matched by car wax and polish.