If there's anything bicycle enthusiasts and professionals love, that would be a clean bike with a shiny and protected surface. There are many products specially designed for bicycle application that clean and protect the bike frame, derailleurs, tires, and all other bicycle parts. Today we have innovative products that use nano-technology with extended durability and service life. Most of them are very easy to apply and only require adequate prep work and patience for optimal efficiency.
To help you decide on the right product for your bicycle, we created this Buyer's Guide for bicycle ceramic coating for 2020 and beyond. Among numerous paint protectants, we managed to narrow our selection down to 10 best products.
Before we start, it might be helpful to become familiar with the benefits of ceramic coatings. If you're a seasoned pro, go ahead and jump directly to our top 10 ceramic coatings for bicycle reviews.
Buying Guide For The Best DIY Bicycle Ceramic Coating
What Are the Benefits of a Ceramic Coating?
Ceramic coatings are also known as nano-ceramic coatings, glass coatings, quartz coatings, silica coatings, or hydrophobic coatings. The ceramic part of their name refers to the technology or chemical compounds they use in their formulation. In this case, we're talking about innovative SiO2 technology which creates a hard and clear protective layer. These shield-like properties are actually the superpowers of ceramic coatings including:
1. Exceptional Protection:
As we mentioned, ceramic coatings are layers that safeguard the treated area against all sorts of harmful contaminants and pollutants. Thanks to the exceptional strength of the coat that forms and bonds to the surface, ceramic coatings outperform all other forms of protection such as waxes and paint sealants. Ceramic coatings also have anti-scratch properties which means that they can protect your bike against small stone paint chips and scratches.
2. Reduces the Potential of UV damage, Oxidation, or Rust:
Ceramic coatings have the ability to shield the surface against harmful and damaging UV sun rays. Over time, UV leads to surface oxidation and fading of paint, and those are changes that can be noticed. However, UV can also create damage that is not noticeable to the eye. Those are micro-scratches and damages that become places where UV rays, water, and dirt can enter which can lead to rust formation if neglected.
3. Longer Lasting and Cost-Effective:
New and innovative formulations are also created to last longer than traditional surface protectants. This further means that you will spend less money and your precious time on additional products for bicycle maintenance.
4. An Exceptional Finish:
The aesthetic side of a ceramic coating or the high shine and gloss they give to a surface is superb. The hydrophobic properties of ceramic coatings and their unique formulation provide an exceptional finish. These water-repellent coatings also make cleaning your bicycle easier and faster because they prevent water, dirt, bird droppings, tree sap, and other pollutants from clinging to the bicycle surface.
5. Can be Used on Any Porous Surface:
Once again, the advanced technology of ceramic coatings makes them ideal for application on various types of porous surfaces including paint, metal, glass, plastic, head and tail lights, trims, wheels, and more.
Are There Different Types of Ceramic Coatings?
Yes, there are. It all comes down to their chemical composition. Most products are easy to apply and can be used as DIY solutions and for professional applications.
1. SiO2 Infused
These ceramic coatings are liquid formulations that have the highest content of SiO2 which is their key compound.
2. Hybrid Solutions
Hybrid solutions are liquid coatings that typically come in the form of sprays. They have a lower percentage of SiO2 which makes them less durable than ceramic coatings.
Breaking Down the Ceramic Coating Costs
Different types of ceramic coatings have different price tags. Needless to say, a higher price does not always equal the best protection. Our recommendation is to always go for the best value-price proposition.
Under $30:
Products under $30 are usually ceramic coating sprays which nonetheless provide a great level and duration of paint protection and shine.
$30 to $60:
This price range belongs to both spray ceramic coatings and liquid ceramic coatings which have a longer service life and durability.
Above $60:
Ceramic coatings from this price range provide optimal ceramic protection for the longest time period.
Top 10 DIY Ceramic Coatings For Bicycles Reviews
Explaining the Ranking System
We selected the top DIY bicycle ceramic coatings based on four major categories. Those are:
1. The quality of the product
Product quality is determined by its chemical composition and implemented technology. It is directly related to product durability and level of protection.
2. Consumer feedback
Customer reviews shape our buying decisions as they contain valuable information about the product, product experience, before and after images, shipping times, company's customer services. In other words, the entire customer journey.
3. Price
Product price also affects our purchases and it's often the decisive factor. It is always a good idea to estimate product value compared to its price.
Please note that the prices that you'll find in our Buyer's Guide are those we found at the time of creating the post. Therefore, please check for the latest product prices on the links below.
4. Online presence
Online presence and the way companies interact and engage with their online community are essential parts of today's digital world and economy.
AvalonKing Armor Shield IX DIY Kit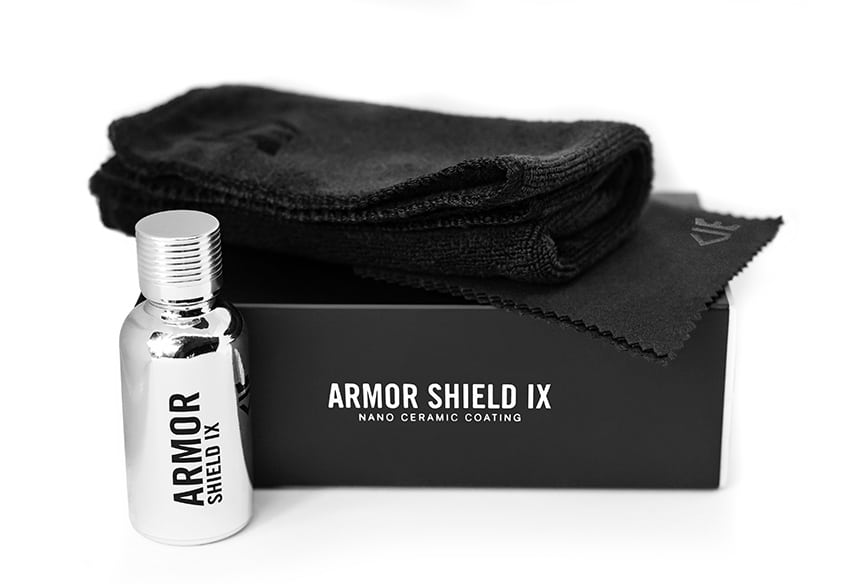 1. Armor Shield IX DIY ceramic coating
Our bicycle ceramic coating winner and top choice is Armor Shield IX ceramic coating DIY kit by AvalonKing. The product features and the value you can expect from this ceramic shield are among the highest in the detailing industry. Armor Shield IX was originally designed for application in the automotive industry. However, its powerful formulation, properties, and easy application are what made it the favorite among many motorcycle, bicycle, marine, and aviation detailing enthusiasts and professionals. The kit has premium packaging and it includes a 30 ml bottle of Armor Shield, 1 applicator block, 3 application suedes, 1 pair of gloves, and 1 microfiber buffing towel.
Why It's Our Top Pick
PRODUCT QUALITY: Armor Shield IX achieved the maximum score in this category thanks to its 84% SiO2 formulation. The ceramic coating has superhydrophobic and protective properties and gives the surface a great finish. Also, product durability and service span are amazing with protection between 2 and 5 years, which is among the longest in the market.
CUSTOMER FEEDBACK: There are over 2.2k customer reviews on the AvalonKing website with an overall 4.8 out of 5 stars. Many of the reviews contain before and after images showing amazing results.
PRICE: One 30 ml bottle kit costs $69.99. In our opinion, this is an excellent price for value as the applied coating can last up to 5 years. Additionally, one 30 ml bottle is enough to cover one regular size car! So this will go a long way for your bicycle. However, ceramic coatings in general have a fast curing time so you should use any coating within 48 hours after opening it.
ONLINE PRESENCE: The company obviously has a high level of customer engagement on their website. The website has a blog section with great content for anyone interested in detailing and automotive industries. Also, they post great content on their Instagram page which currently has 13.9k followers.
Here Are The Facts
Free shipping for the US and Canada. If you buy 2 or more kits, shipping is free worldwide.
Great prices for bigger purchases - buy 1 get 2nd 50% off, buy 2 get 1 free.
9H hardness level - the highest scratch resistance and longevity rating.
Do not apply on grips, pedals, seat, and brake lines.
Proteam Bicycle Care Hydro Coating
2. Proteam Hydro Coating
Hydro Coating by the Dutch company Proteam Bicycle Care. The coating is needed for the bike frame and components application and provides a high level of paint protection, including mat carbon, thanks to the infused SiO2 technology. The coating provides protection up to 2 years after application. However, if combined with the Proteam Clean and Cure Sealant, that number goes up to 3 years of protection. It has great hydrophobic properties, it repels mud and dirt, and makes bike cleaning and maintenance easier. A 15 ml bottle of Hydro Coating is enough to apply a single layer of coat to one bicycle. The coating can be applied with applicators or an airbrush.
Why It's Our Second Pick
PRODUCT QUALITY: The product won the innovation award at the Bike Motion Fair in Utrecht, the Netherlands in 2018.
CUSTOMER FEEDBACK: There are a lot of positive reviews and testimonials from customers on the company's website. They currently have no reviews on Amazon.
PRICE: Hydro Coating can be purchased directly from the company website. A 15 ml bottle enough for one bicycle costs €31,95 which is around $39.14.
ONLINE PRESENCE: Proteam Bicycle Care has a very good website with a lot of useful product information and customer reviews. On the other hand, the company does not yet have a high number of social media followers.
Turtle Wax Hybrid Ceramic Spray Coating
3. Turtle Wax Ceramic Spray Coating
Ceramic Spray Coating by the famous company Turtle Wax is a hybrid solution or a spray ceramic sealant. Its formula is infused with SiO2 and as a hybrid paint sealant, it protects the surface for up to 12 months. The coating has water-repelling, water sheeting, and chemical resistant properties and also gives the surface great shine and finish as it reduces water spots and contaminant deposits. It is originally designed for the automotive industry, however, it can be applied on all exterior surfaces including paintwork, glass, headlights, and wheels.
Why It's Our Third Pick
PRODUCT QUALITY: A branded product with high-level performance and features characteristic of hybrid spray ceramic coating solutions.
CUSTOMER FEEDBACK: The product has a high score on Amazon with 4.7 out of 5 stars and over 5k reviews.
PRICE: An affordable hybrid spray coating which starts at $14.97 for a 16 fluid oz. bottle.
ONLINE PRESENCE: Turtle Wax is a famous brand with a well-established online presence and an amazing social media following - 810.6k followers on Facebook and 47.1k followers on Instagram. Their YouTube channel has close to 30m views.
CarPro C.Quartz
4. CarPro Cquartz Ceramic Coating Finish
C.Quartz is another favorite in the detailing by CarPro. The nano-ceramic coating can be applied to bicycles. It is a great and effective formula with water-repellent and oil-repellent properties that leaves a great and shiny finish. Also, the life cycle of the applied coating is two years. The C.Quartz kit contains a 30 ml bottle, 1 applicator, and 4 suede microfiber cloths.
Why It's Our Fourth Pick
PRODUCT QUALITY: A high-quality nano-ceramic coating with great properties and efficiency.
CUSTOMER FEEDBACK: C.Quartz has a high overall score on Amazon with 4.6 out of 5 stars and a total of 502 ratings.
PRICE: The price of the C.Quartz kit is $60.99.
ONLINE PRESENCE: CarPro is a famous brand in the automotive industry. The company has a great website with a lot of interesting and useful content. Their Facebook community is impressive with 86.2k followers, and their Instagram page is followed by over 115k people.
GL Coatings Ecocoat Bike
5. Ecocoat Bike
Ecocoat Bike is a ceramic coating by IGL Coatings specially engineered for bicycles. The product can be used on paintwork and it's also safe to be used on PPF and vinyl surfaces. Ecocoat Bike has high hydrophobic properties and 8H level scratch resistance. The durability of the product is slightly shorter compared to other ceramic coatings and lasts up to 12 months. The Ecocoat Bike 10ml bottle, ecoclean Precoat 60ml - a surface prep fluid, ecoclean Air 60ml - spray for odor elimination from helmets, for instance, 1 application block, 2 application cloths, and 4 application wands for small surfaces.
Why It's Our Fifth Pick
PRODUCT QUALITY: Great bicycle detailing product and ceramic coating with a durability up to 12 months and 8H hardness level. Mud, water, and dust resistant.
CUSTOMER FEEDBACK: There are currently no customer reviews on Amazon nor the company website. However, we were able to find a couple of blog post reviews which claim that the product is highly efficient and that a single kit is enough for 2 MTBs.
PRICE: Ecocoat Bike kit is not available on Amazon and can be purchased directly from the company's website for $44.95.
ONLINE PRESENCE: IGL Coatings have a solid website and a lot of useful and informative content about their eco-friendly products. For the time being, they have a modest social media following with around 9k followers on Facebook and Instagram altogether.
Wax is Dead Bike Ceramic Coating
6. Wax is Dead Bike Ceramic Coating
Bike Next Gen Ceramic Coating is a product by Wax is Dead is a paint protectant specially designed for bikes and various types of riding environments. IT can be applied to paint, metal, titanium, carbon fiber, plastic, and vinyl. The coating creates a protective layer over the bike frame and prevents water, dirt, grave, and other elements from damaging the paint. It is great for all detailing skill levels and can be used by both pros and weekend warriors.
Why It's Our Sixth Pick
PRODUCT QUALITY: High-level scratch resistant (9H), superhydrophobic, chemical resistant, water, and UV resistant.
CUSTOMER FEEDBACK: Bike currently has no website and Amazon reviews but we were able to find a lot of videos where customers show the benefits of this product.
PRICE: The product is currently not available on Amazon and you can purchase it through the company's online shop for £45.00 which is around $61.18.
ONLINE PRESENCE: Wax is Dead has a very good website with useful product information and a modest Instagram following of 6.5k followers.
Coating Farm Cycle-Guard Pro
7. Coating Farm Cycle-Guard Pro
Cycle-Guard Pro by the UK company Coating Farm is a bicycle ceramic coating that can be applied to gloss finish, carbon fiber, and matt finishes, crank, derailleur, and handlebars. It has all the regular properties of a ceramic coating which are UV and water resistance, 9H hardness level which is the highest level of scratch resistance. When applied, it can protect the surface for up to three years and a single 15 ml bottle is sufficient to coat three bikes.
Why It's Our Seventh Pick
PRODUCT QUALITY: A high-quality product that is easy to apply with all the great qualities of a nano-ceramic coating.
CUSTOMER FEEDBACK: The product currently has no website and Amazon reviews. However, we were able to find a lot of positive feedback on other ceramic coatings by Coating Farm.
PRICE: Cycle-Guard Pro can be purchased on the company's website at a price of £39.99 which is around $54.28.
ONLINE PRESENCE: The Coating Farm has a good website with all the relevant information about their products and Videos section. They have a modest community of 8.6k followers on Facebook.
GTECHNIQ Crystal Serum Light
8. GTECHNIQ CSL Crystal Serum Light
Crystal Serum Light by Gtechniq is another high-quality ceramic coating that can also be applied to bicycles. The product creates a durable and high-gloss coating with a 9H hardness level. Once applied, it makes the surface resistant to chemicals, hard water spots, tree sap, and other pollutants. The product has a prosumer tag which means that a certain level of detailing skill is required to apply the product properly.
Why It's Our Eighth Pick
PRODUCT QUALITY: The product has great hydrophobic and shine properties and the highest level of scratch resistance - 9H. With regular maintenance, the product is designed to provide protection between 3 and 5 years.
CUSTOMER FEEDBACK: CSL has a high 4.6 out of 5 stars score on Amazon, an average of 86 reviews in total.
PRICE: A 50 ml bottle of Crystal Serum light is $99.99 on Amazon which is a better deal than the one on their website where the same offer goes for $118.80.
ONLINE PRESENCE: Gtechniq has a well-established online presence with very informative content. They have large online communities with 48.5k Instagram and 31.5k Facebook followers.
The Last Coat Ceramic Coating
9. The Last Coat Premium Car Polish
Ceramic Coating by The Last Coat is another spray form ceramic paint sealant. It is a water-based liquid infusion spray with a very simple application. You spray it on a microfiber towel and then spread the coating. It can be used on all surfaces including household surfaces. It protects the surface against water, dirt, salt, and UV rays, and gives it a nice shiny finish for up to 6 months.
Why It's Our Ninth Pick
PRODUCT QUALITY: Easy to apply product with great spray ceramic coating properties. Great for both professionals and enthusiasts.
CUSTOMER FEEDBACK: A high 4.6 out of 5-star score on Amazon and over 2.3k reviews.
PRICE: The price of Ceramic Coating by The Last Coat starts at $37.97 for a 16 fluid oz. bottle.
ONLINE PRESENCE: The Last Coat has a great online presence with a lot of great content on their website. Their Instagram community is strong with more than 57.8k followers and 19.6k followers on Facebook.
TriNova Ceramic Spray Coating
10. TriNova Ceramic Spray Coating
Ceramic Spray Coating by TriNova is a paint protectant designed for the automotive industry which can also be applied on bicycles as it is designed for paint, wheels, glass, and other types of surfaces. It has great water beading properties or a high level of protection against water, and also protects the surface against harmful UV. The ceramic spray is very easy to use as you need to spray it on, rinse it off, and let it dry. Also, it gives the paint a nice and deep shine and thanks to its SiO2-based formula, it can last up to 6 months.
Why It's Our Tenth Pick
PRODUCT QUALITY: A high-quality ceramic spray with great ceramic coating properties.
CUSTOMER FEEDBACK: TriNova Ceramic Spray Coating currently has a 4.2 out of 5 stars and 167 ratings on Amazon.
PRICE: The price of the 18 fluid oz. bottle of this ceramic spray coating is $19.97.
ONLINE PRESENCE: TriNova is a company that produces many automotive and home care products such as coatings and sealants. They currently have an Amazon store page and a Facebook community of 26k followers.
Final Thoughts
There are many advantages to ceramic coating your bicycle. The paint of the frame and other coated parts get exceptional protection from various environmental impacts. Contaminants, dirt, and water are prevented from sticking on the surface which makes cleaning and maintenance faster and easier. All of these points contribute to the overall cycling performance and experience, and certainly boost the feeling of pride when riding your precious two-wheeler. We believe that all products on our list can help you achieve these effects. Now, put on your protective gloves and get down to business. We know how eager you are to get started!