Is there anything you can do to restore the shine of your boat and protect it at the same time? Yes, there is! The advancement in coating technology has brought to all of your nautical enthusiasts the DIY nano-ceramic coating for boats.
We suppose the term is pretty self-explanatory, however, we do have to point out that nano-ceramic coating technology is a unique protective formulation. It's designed to protect the boat surface by filling in the nano-size pores of a seemingly smooth coat of paint and other surfaces. As you might have guessed, there are quite a few products out there that can help you protect your vessel.
That's why we decided to test the best of the best out there and compile an instructional and straightforward list that will give you a bit more than the average ceramic boat coating reviews. This guide is designed to truly help you, our fellow sea dogs, get the best value for your money for the DIY nano-ceramic coating.
Top 10 DIY Nano Ceramic Coating for Boats Review
Explaining the Ranking System
First off, let us share with you the principle we used for the evaluation of each product. We believe these four major points are essential for any product assessment and here's why.
1. The quality of the product
The first thing we pay attention to is the formula of the boat ceramic coating. The incorporated technology affects the quality of the product and is directly related to the longevity of the coating.
2. Consumer feedback
Hearing what the community of boat aficionados has to say about a product is the second thing we focused on. It's easy to distinguish the fake from the real review by paying closer attention to the number of details and if there are actual videos or photos of the effects of the product.
3. Price
Price is an essential part of ceramic boat coating reviews as it generally has a huge impact on consumer choices. Sometimes the price doesn't justify the value you get, while on some other occasions, you can get surprising results with a product from a lower price range.
Please note that the product prices in the review are the ones we found at the time of writing the review. For the latest prices, please check the individual products below.
4. Online presence
Any real brand today recognizes the importance of online presence. Being transparent and easy to reach is a clear sign of a defined brand identity which indicates the belief of the manufacturers in the quality of their product and also inspires consumers' trust.
What Are the Benefits of a Ceramic Boat Coating?
Boats have higher protection from the elements by design, especially water. However, ceramic coating undoubtedly provides additional protection and thus maintains the value of the vessel. Thanks to its nanoparticle technology, it is highly hydrophobic and prevents premature paint fading caused by exposure to water and heat. Moreover, the maintenance of the boat becomes a much easier task as the ceramic coating has the ability to protect it from organic dirt such as bird droppings. Those are also a major cause of paint decay, apart from being a nasty sight.
Here's more about the benefits of nano ceramic coating.
1. Exceptional Protection:
When the ceramic coating is applied, it creates a strong glass-like layer on top of the paint. The nanoparticles get into the small pores of the paint and seal them. They bond to the paint and create powerful protection as water, dirt, and other pollutants can no longer attach to the boat's surface.
2. Reduces the Potential of UV damage, Oxidation, or Rust:
It is perfectly normal that boat paint gets scratches and small crevices as it's the first thing that gets in contact with water and sunrays. Over time, those micro openings can become weak points because they are spots that have lost their protective layer. They collect water which can lead to oxidation and rust and also allow harmful UV rays to enter. The ceramic coating seals those weak points and all other boat surfaces and materials like plastic and glass.
3. Longer Lasting and Cost-Effective:
Compared to professional waxing and ceramic coating, DIY solutions are much, much more cost-effective. Professional jobs easily cost over $1000 and take more time to complete. On the other hand, nano ceramic coating kits allow you to save money by being DIY sets. Also, they dry faster which means that you won't have to wait too long before sailing out.
4. An Exceptional Finish:
One particularly amazing trait of ceramic coating technology is that once applied, it creates a kind of a shine. The paint appears richer and it has a glossy, almost wet look to it. Therefore, not only does the ceramic coating provide powerful protection to the paint, but it also boosts the boat's aesthetics.
5. Can be Used on Any Porous Surface:
As mentioned above, the nano ceramic coating can be used for the protection of various types of surfaces including painted boat surfaces, plastic, glass, headlamp lenses, or other types of lighting. All boat surfaces are susceptible to decay and applying ceramic coating to those parts can protect them against oxidation and UV damage and restore their appearance.
Are There Different Types of Boat Ceramic Coatings?
As you can see in our top 10 DIY nano ceramic coating for boats, there are certainly many different types of coatings. In the first place, they differ in their content, or the compounds that are a part of their formula.
1. SiO2 Infused
Silicon dioxide or SiO2 is a chemical compound that consists of silicon and oxygen. It is also known as liquid glass well-known for its protective properties. SiO2 penetrates into the top paint layer and creates a waterproof coating. The higher the content of SiO2, the better the protection.
2. Polymer-Based
Polymers are compounds that have the power to bond together through a chemical reaction. When they bond, they create a coating which provides protection against corrosion, water, and other environmental impacts in a wide range of temperatures.
Compared to SiO2 coating, the polymer-based coating does not have the same high level of hardness making it a "weaker" option.
3. Hybrid Solutions
Hybrid solutions are typically aerosols or spray-on ceramic coating products. Also, the formula of a hybrid coating consists of SiO2, polymers, and, in some cases, synthetic wax.
If we compare them to SiO2 and polymer-based coatings, hybrids are the cheapest and easier to apply. However, their lifespan is considerably shorter compared to the other two types of products.
Breaking Down the Ceramic Coating for Boats Costs
Under $50:
As you might have guessed, hybrid spray solutions can be bought at a price under $50. The lower price also dictates a lower product quality and shorter protection of your boat, holding up to six months maximum.
$50 to $100:
Products from this price range are slightly better in terms of quality and in return offer a longer protection cycle. Depending on the overall condition and boat use, the paint is protected from around a year to 18 months.
Above $100:
If you opt for a ceramic coating for boats from the +$100 range, you can expect the longest protection time. The product should be able to withstand all kinds of impacts for two years at least to be considered a worthwhile investment. Now that you're familiar with our ranking system and the benefits of nano-ceramic coating, here are our top 10 ceramic coatings for boats.
1. Armor Shield IX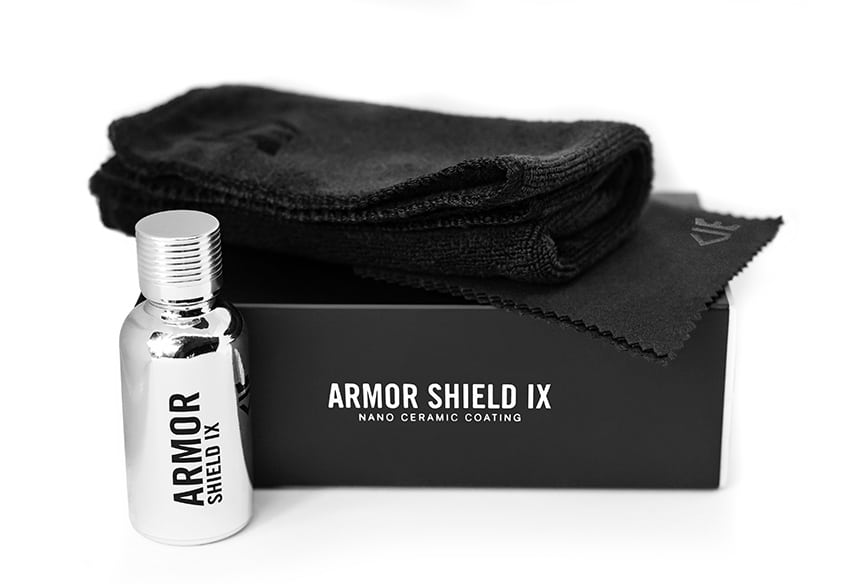 1. Armor Shield IX – by AvalonKing
Armor Shield IX by AvalonKing made it to the top of our list for several good reasons. First, the formulation of the product includes
84% of SiO2
making it the strongest in the market. Second, this nano-ceramic coating has a two-year lifespan which is great value for the price of the product. Third, a 30 ml bottle comes in a very exclusive-looking, black and silver box and the kit itself includes other things required for the application of the coating such as an application sponge, three applicator suedes, a pair of professional nitrile gloves, and a microfiber buffing towel.
There are over 2000 reviews of the Armor Shield IX on their website that include testimonials and images of the people who have experienced the product. Speaking of the website, AvalonKing offers great content to all vehicle and vessel owners who want to find out more about ceramic coating and other detailing-related products and topics.
Armor Shield IX is a product that offers an amazing value for a price starting at $69.99 and it can be applied on any solid and porous surface including clear coating, windshields, wheels, plastic trim, chrome, emblems, grilles, carbon fiber, and more.
Why It's Our Top Pick
PRODUCT QUALITY: With one of the highest content of SiO2, it quickly creates a hard layer or shield. What's more, the technology of the products makes sure your boat paint and surfaces stay protected for two years.
CUSTOMER FEEDBACK: What we were able to find easily is over 2000 positive reviews of the product. Website visitors can even see many before and after images that show the effectiveness of this ceramic coating.
PRICE: The company has several offers for its customers depending on the quantity they need. The price starts at $69.99 for a 30 ml bottle kit, $104.99, for two kits, and $139.99 for three or buy two to get one free practically.
ONLINE PRESENCE: The has a well-established online presence and community which also includes many brand ambassadors. They make great DIY and informative content and deal with customer queries efficiently across all channels.
Here Are The Facts
For bigger vessels and boats, you would need at least three kits or three 30 ml bottles of Armor Shield IX.
Free shipping for the USA and Canada.
The high content of SiO2 makes it the strongest on the market.
Two-year lifespan, great value for the price.
2. Liquid Crystal Armour DIY Ceramic Coating
No products found.
3. Glidecoat Marine Ceramic Coating
3. Marine Ceramic Coating - Glidecoat
Marine Ceramic Coating by Glidecoat is our next choice for optimal vessel protection. The coating protects paint, gel coat, stainless steel metal, non-skid and/or engine cowlings and protects them from UV rays and oxidation, and stops stains and salt from harming the surfaces.
One application of Marine Ceramic Coating will provide protection of up to 18 months and boat maintenance during that time would probably only include light wash or rinse. Like other products, it also restores the appearance and gloss of the paint. The price of a 50 ml bottle which is adequate for a 10 ft boat size costs $85.
Why It's Our Third Pick
PRODUCT QUALITY: Glidecoat Marine Ceramic Coating is a quality product which employs nanotechnology. The team has invested a lot of effort into developing the product's effective formula.
CUSTOMER FEEDBACK: There are three product reviews on the website that praise Marine Ceramic Coating.
PRICE: The company applies the standard rule - the bigger the volume, the more affordable price. The smallest volume bottle of 50 ml starts at $85, 120 ml is $165, 160 ml is $195, 250 ml is $295, and the product can be applied for 10 ft, 16 ft, 20 ft, and 30 ft boats, respectively.
ONLINE PRESENCE: Although they almost have no social media presence, the website contains a gallery with instructional videos, a DIY corner, and several case studies. All of these are valuable sources of information for anyone interested in the product.
4. Migliore Acqua Coating
4. Migliore Acqua Coating
Acqua Coating by Migliore is one more product that uses nano ceramic coating technology. It's designed to provide protection for your boat or yacht during a 12-month period after application. Similar to other DIY ceramic coatings, it repels water, salt, algae, bird droppings, and other pollutants which prevent the dirt from clinging onto the surface. Moreover, the product falls into a more expensive price range at $147.75 per kit. The ceramic coating has a recognizable packaging with colors of Italy as the brand founder is of Italian descent.
Why It's Our Fourth Pick
PRODUCT QUALITY: The company has been around for more than 12 years and has since then created a number of quality detailing products including the nano ceramic coating.
CUSTOMER FEEDBACK: Migliore has customers in 14 countries across the world and a pool of satisfied customers.
PRICE: The product is definitely among the more expensive products since you can get it for $147.75 which is good enough for a 20-25 ft boat or yacht.
ONLINE PRESENCE: The company has a solid community with over 21k followers on Instagram. Although the website contains a gallery and instructional videos, it does not contain a blog section for additional value for the users.
5. HydroSilex Marine Ceramic Coating
5. Marine Ceramic Coating -HydroSilex
Marine Ceramic Coating is a product from the range of HydroSilex products designed to provide protection against harmful UV and oxidation. The product can be used on all surfaces which makes it a great all-in-one product, like all of the products on our list. This ceramic coating comes in the form of a spray which makes its formula less concentrated compared to other products. Also, this affects the lifespan of HydroSilex Marine Ceramic Coating which is only six months after application.
Why It's Our Fifth Pick
PRODUCT QUALITY: The product itself is of good quality but certainly less concentrated as it's a spray-on product. Moreover, this feature accounts for the shorter product effectiveness which is six months.
CUSTOMER FEEDBACK: Each HydroSilex product on the website has a review section including their ceramic coating for boats. Marine Ceramic Coating currently has a total of 17 reviews which point to a very positive customer experience.
PRICE: The product is available as a 32 oz spray bottle for $74.99 and a gallon bottle for refills with a $254.99 price tag.
ONLINE PRESENCE: The website contains customer reviews which is a great way for learning more about the product. The company has a solid social media presence with close to 29k followers on Instagram and 33k Facebook followers which certainly speaks a lot about the popularity of HydroSilex products.
6. Sio Protect Hydro Charge
6. Sio Protect Hydro Charge
Hydro Charge is a ceramic coating for boats made by Sio Protect from France. It's a spray ceramic coating for boats which is water-based and does not contain harmful solvents. The company takes special pride in being eco-friendly. Hydro Charge is a DIY product that is easy to apply thanks to its formulation. The only "downside" to this green ceramic coating is that its effects last for only three months after applying. It comes in an aluminum bottle and trigger spray which are recyclable the same as the packaging.
Why It's Our Sixth Pick
PRODUCT QUALITY: Being an eco-friendly product, it certainly does not contain any chemicals harmful to the environment. This makes it an ideal choice as it's biodegradable. However, the duration of the applied coating is only three months.
CUSTOMER FEEDBACK: There is a total of seven reviews on the website with nothing but praise for the product. Social media engagement is quite low so we couldn't draw any data from there.
PRICE: The price for this eco-friendly product depends on the required quantity and all customers are kindly asked to send a query to get a quote. This certainly affects the customer experience as the price is typically the second most important feature of each product.
ONLINE PRESENCE: The website is in both French and English and has a very good blog section with articles in both languages. Sio Protect website also has gallery and video sections for anyone interested to find out more about the product.
7. Liquid Thor Nano Ceramic Marine Coating
7. Liquid Thor Nano-Ceramic Marine Coating
This ceramic coating for boats made by Starke Yacht Care (USA) is a product from the higher price range. Its formulation and incorporated nanotechnology provides a hard ceramic shield that protects boat paint and other vessel surfaces made from glass, metal, vinyl, plastic, and isinglass. Once applied, the coat of paint becomes UV- and oxidation-proof and it's also protected from scratches and extreme heat. The lifespan of the coating is 12 to 18 months on average depending on the weather and sailing conditions.
Why It's Our Seventh Pick
PRODUCT QUALITY: Liquid Thor is a quality product with a high level of SiO2/TiO2 nanoparticles and UV inhibitors. Like most of the DIY products from our list, Liquid Thor is easy to apply but also requires the usual prep work.
CUSTOMER FEEDBACK: The website displays four satisfied customer reviews, while the number of social media interactions for making a more detailed conclusion.
PRICE: The product is available in 100 ml bottles for $205, 500 ml for $920, and 1000 ml $1,760.00. As expected, the biggest container is the most cost-effective, but still quite expensive.
ONLINE PRESENCE: The company has a blog that covers FAQs and How-Tos, which is a great resource for website visitors. However, their social media following is quite modest even though it offers solid content..
8. Undrdog. Marine Base.
8. Undrdog Marine Base
Marine Base. by the Undrdog (Undrdog Surface Products LLC) is certainly one of the most expensive products on our list. You would need to set aside $259.99 for this ceramic coating which is enough to cover a 24 ft. boat twice. This ceramic coating for boats is developed to protect your boat against the typical harmful effects of UV rays, oxidation, salt, bird droppings, dearth, and grime. It also restores the paint appearance as it's designed for paint, gel coat, metal, and plastic boat surfaces.
Why It's Our Eighth Pick
PRODUCT QUALITY: The marine base. formula is SiO2-infused making it highly durable. Its effects are supposed to be visible around 18 months after application.
CUSTOMER FEEDBACK: Despite the fact that there are no customer reviews on the website, the before and after images on the company's social media seem to be getting some attention.
PRICE: Starting at $259.99 for a bottle of marine base, the product is quite expensive. However, the company has a special offer. Anyone who orders between five and nine products can get them $229.99 each, and if you order more than 10, the price drops significantly to $199.99 per bottle.
ONLINE PRESENCE: The website is very attractive and visitors immediately see the image of a modern boat and car detailing product company. Their following, on the other hand, is definitely something the company should work on.
9. Sea-Shield Nano Coating
9. Sea-Shield Nano Coating
The Nano Coating ceramic coating spray for boats by Sea-Shield is made for the protection of various boat surfaces including paint, gel coat, plastic, rubber, vinyl, and metal. Similar to other DIY products covered by our ceramic coating for boats review, it is easy to apply to a properly prepared and clean surface. Its concentrated formula makes sure all surfaces stay protected from oxidation and the effects of UV.
Why It's Our Ninth Pick
PRODUCT QUALITY: The product is very durable thanks to its highly concentrated formula. One spray of Nano Coating is enough to create a protective layer of a surface area of three to five square feet.
CUSTOMER FEEDBACK: The product has no reviews on the website but the before and after images show very good coating results. The product page contains product datasheets so customers can easily find all the necessary information.
PRICE: The product is available in three sizes starting with a 16 oz spray bottle for $45.95. There is no price info for the other two container sizes of 32 oz and one gallon.
ONLINE PRESENCE: The website offers a lot of useful content, How-Tos, images, a good FAQ section, and contact and social media points. Their social media channels definitely need more growth activity.
10. SB-230 Ceramic Coating for Boats
10. SB-230 Ceramic Coating for Boats
The SB-230 is a nano-ceramic coating designed by ShowBoat Custom Coating Inc. The product is great for aluminum and stainless steel boat parts and offers a high level of protection against all environmental impacts. It also contributes to the aesthetics of the metal surfaces by restoring their glow. SB-230 is a clear polymer ceramic coating that could make the protective coating less strong compared to SiO
2
ceramic coatings. Though the reviews on the website are from a bit long ago, older, one satisfied customer reported that its effects lasted for 18 months.
Why It's Our Tenth Pick
PRODUCT QUALITY: As mentioned earlier, the SB-230 formula is polymer-based which has a slightly shorter lifespan than SiO2 ceramic coatings. Still, that does not undermine its overall quality.
CUSTOMER FEEDBACK: There are a couple of reviews on the website from customers claiming to have achieved great results with the product. It would certainly help if the company could add a few more recent testimonials.
PRICE: The product is available in three container sizes and prices: 4 oz for $65 good for 60 ft of metal, pint for $200 and 300 ft of metal, and a quart for $350 which covers 600 ft of metal. There is a gallon-size container, however, the product page is broken.
ONLINE PRESENCE: The company definitely needs to update the testimonials particularly because it has a poor social media following.
Final Thoughts
DIY nano ceramic coating for boats are ideal products for restoring the glory of your sail. Once applied, it protects the surface of your boat on several levels. Also, as it's a DIY product, it will give you that additional sense of satisfaction and pride. You did something to make your favorite vessel feel and look like new every time you clash with the elements.
We can conclude by saying that a DIY nano ceramic boat coating is absolutely worth the investment and certainly hope that our review will provide you with enough insights to make an informed decision about which product to choose.