Recreational vehicles see it all – highway, dirt roads, and old roads in the woods. In these conditions, it's important to protect your RV as much as possible. Additionally, you want to keep it clean and looking good no matter where you're going. With that said, ceramic coating your RV makes a lot of sense.
DIY-enthusiasts will be happy to hear that ceramic coating can be applied on all vehicles DIY-style. All it takes is a bit of practice and some preparation. One of the things you have to do when ceramic coating your RV yourself is to choose the ceramic coating product you want to use. At the moment, there are a plethora of these products available on the market. However, some of them do a better job when applied to RVs. To make your project a success, opting for one of these products is a must.
Getting the best RV ceramic coating product on the market makes a lot of sense. Still, with so many products available, identifying the right one for your recreational vehicle can be tough. To help you, we evaluated some of the most popular products in 2020 and compiled a list that can make your choice a lot easier.
Top 8 DIY Ceramic Coating Products Review
Explaining the ranking system
Before we present you with our list of the best ceramic coating products, we need to take a step back and explain how we evaluated all products in it. In this section, you'll find the four things we paid special attention to when evaluating each of these products. Of course, our goal is always to help you identify the best features of each product and to hint at the features we didn't like that much.
1. Quality of the product
Product quality is one of the key qualities you have to look at when searching for the best ceramic coating product for your RV. Gathering information from various sites can be daunting, which is why we searched for the claims manufacturers have made about these products and put them all in one place. We focused the most on the longevity and durability of the product. Also, we paid extra attention to how DIY-friendly each of these products is. Additionally, we provided information about the packaging each of the products comes in.
2. Consumer feedback
Every manufacturer will tell you that their product is the best on the market. That's why you need more information before deciding on the product you'll apply to your recreational vehicle. Your safest bet is to hear what their previous customers have to say about the product and take that into consideration when making your decision. In our list, you'll find any product ratings we were able to find as well as additional information provided by their previous customers.
3. Price
Obviously, ceramic coating products come in all price ranges. Regardless of how much there's in your budget, finding a product you can afford shouldn't be tough. Just bear in mind that the higher price doesn't always indicate higher quality. Some products simply don't live up to their price and chances are there are better products available for a lower price. In this post, you'll find detailed information about each product's price.
We'd also like to mention that, as you already know, prices tend to change over time. All the prices listed in this post are those we were able to find at the time of writing the article. When choosing the best product for you, we strongly suggest checking current prices yourself before making any decisions.
4. Online presence
Last but not least, we checked the online presence of manufacturers behind each of these products. You'd be surprised to hear how much their online presence affects your overall experience. Companies that pay more attention to their website and social media pages are usually easier to contact. Also, brands with a stronger online presence usually provide more information about their product.
What are the benefits of ceramic coating?
Another thing we want to do before we start listing our top RV ceramic coating products is to tell you more about why it's a good idea to ceramic coat your vehicle.
When applied to your RV, ceramic coating bonds with its outer parts. It's a liquid polymer that can bond chemically with any outer part of the vehicle. It creates a new layer on the top, protecting the part and making it look better.
Here are some of the most important benefits of applying ceramic coating on your RV.
1. Paint protection
As previously mentioned, ceramic coating products are designed to bond with the shell of the vehicle and protect it. The extra layer you get when you ceramic coat your RV is exactly what it takes to prevent minor damages to it. RV owners often fit dirt roads and there are all kinds of scenarios in which this type of protection can help your RV stay intact. While it's most often applied on paint, the ceramic coating can also be applied on other outer RV parts.
2. Longevity
Ceramic coating is a much better option compared to waxing and other traditional RV coatings. This is especially the case when the vehicle is exposed to dirt and harsh weather, which often happens with RVs. In case you don't apply a ceramic coating on your RV and you hit the road, chances are you'll have to get a new paint job much earlier than you wanted. On the other hand, adding an extra layer of ceramic coating is a great way to ensure your paint doesn't wear off. Ceramic coatings generally last way longer than traditional coatings, making them the perfect option for all RV owners. Still, keep in mind that how much your ceramic coating will last heavily depends on the product you opt for.
3. Easy to clean
Depending on the size of your RV, cleaning it can be extremely difficult and time-consuming. The good news is that if you apply ceramic coating on it, the entire process will last significantly less. This is because a layer of ceramic coating leaves no place for dirt and debris. Once you apply the product, you'll see that your RV looks smoother than ever and all it takes to clean it is to wipe it with a cloth.
4. Cost-effectiveness
Some RV owners are skeptical about products like this, mostly because they feel like they're expensive. In reality, applying ceramic coating on your RV is one of the cheapest ways to protect it and make it shine. As mentioned above, these products are known to last for quite a while, meaning that it'll take more time before you're supposed to buy a new product for your RV. In the long run, this will actually help you save money.
5. Appearance
The last thing we need to mention is how much ceramic coating can do for your recreational vehicle in terms of looks. A new layer of ceramic coating will make its shell shiny and sleek, which is exactly what most RV owners want. Therefore, not only does ceramic coating protect your RV and make maintenance easier, but it also makes the vehicle more visually appealing.
Armor Shield IX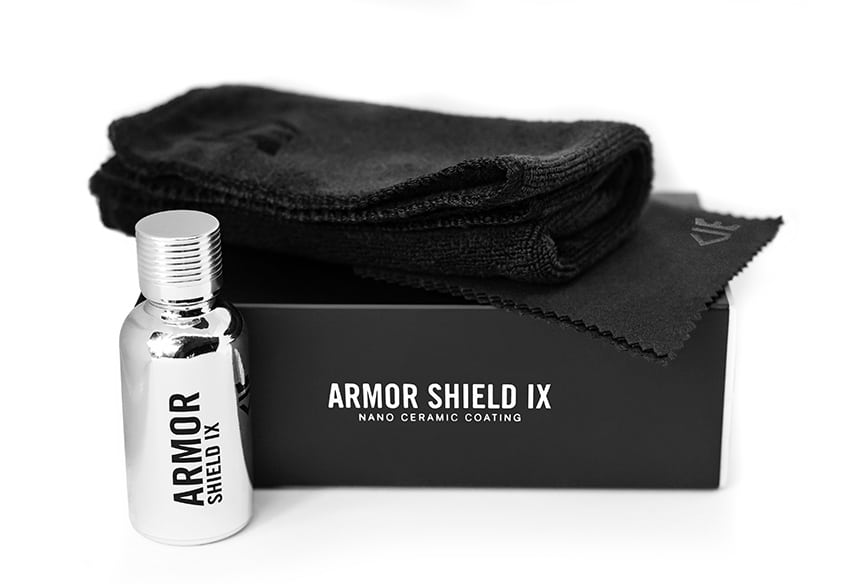 1.
Our top pick, when it comes to RV ceramic coating products, is Armor Shield IX, brought to you by AvalonKing. While evaluating all popular ceramic products on the market, we came to the conclusion that Armor Shield IX is the strongest product available. What makes this product stand out is the fact that it's made from 84 percent SiO2. Its formula is one of the best at the moment, and Armor Shield IX is a no brainer option for all RV enthusiasts. What's more, the product lasts significantly longer than other popular options. This means you'll have to spend less money to keep your RV shine. As you'll get a chance to see later in this post, this product is the best-rated product on the list, which only confirms that it's exactly what you're looking for.
Why It's Our Top Pick
PRODUCT QUALITY: As you can probably imagine, Armor Shield IX offers the best protection to RV owners. The above-mentioned formula does an amazing job of protecting both the paint and other outer parts of the vehicle. So, no matter what kind of roads you plan to drive on, you don't have to worry about any potential minor damages to your vehicle's shell. Another great thing about this product is how good it looks when applied. No matter how much you're into DIY, applying this product shouldn't be tough. The reason behind this is the carefully designed packaging the product comes in. As long as you have a pair of gloves and you know what you're doing, applying Armor Shield IX on your RV should be a real piece of cake.
CUSTOMER FEEDBACK: Armor Shield IX isn't just our top pick for RV owners. If you take a look at the ratings left by their customers, you'll see that the product has an amazing 4.8 out of 5. You'll see later in this post that no other product has left such an impression on the customers.
PRICE: If you decide to get Armor Shield IX, you can do so on AvalonKing's official website. The product is available for $69.99 for one kit. In case you get more than one, you'll activate one of their special deals. For example, you can get three kits for just $139.99.
ONLINE PRESENCE: What we liked the most about AvalonKing's online presence is their sleek website design. They're also on all popular social media platforms and we recommend checking out their Instagram page. Instagram users who use their @avalonking hashtag all get a chance to be featured on their page. You can also check their Instagram shop where you can order this awesome product.
Here are the facts
Offers maximum RV exterior paint protection
Best-rated among ceramic coating products
You can get a "buy two, get one free" deal
Use @avalonking hashtag to be featured on AvalonKing Instagram page
Adam's UV Ceramic Paint Coating
2. Adam's UV Ceramic Paint Coating Kit
Do you want an effective ceramic coating that's easy to apply? Do you want a product that comes with special features you won't find anywhere else? Look no further than Adam's UV ceramic paint coating. The reason why there's a 'UV' in the product's name is that it comes with a special Adam's UV flashlight you can use to see where exactly the coating has been applied. This makes the entire application process a lot easier.
Why It's Our Second Pick
PRODUCT QUALITY: Adam's UV ceramic paint coating is another strong product that provides your RV all the protection it needs. Based on the information available on the manufacturer's site, the product can last for over 5 years which is more than many other poplar ceramic coating products. It arrives in standard packaging. The product quality, together with the UV flashlight feature was more than enough for this product to rank this high.
CUSTOMER FEEDBACK: If you check out Adam's UV ceramic paint coating on Amazon, you'll see that the product is rated 4.6 out of 5. That's also where you'll be able to find pictures posted by satisfied customers.
PRICE: This product is available on Amazon for $80 which makes it one of the more expensive options on our list. If you want to order the complete UV kit, the price is $105.
ONLINE PRESENCE: When evaluating the product, we really came to like the official Adam's Polishes website. They're also on Instagram where they have a page with 400 thousand followers. You can order their products in their Instagram shop.
Yocisku 9H Nano Ceramic Coating
3. Yocisku 9H Nano Ceramic Coating Pro
Next on our list of the best ceramic coatings for RVs is Yocisku 9H nano ceramic coating. This product also uses the SiO2 formula and is considered a popular pick among RV owners. While Yocisku 9H is also an ultimate barrier that protects the paint on your RV, the ratings are slightly lower when compared to Armor Shield IX and Adam's UV ceramic paint coating, which is why we have it listed as the no. 3 RV ceramic coating product.
Why It's Our Third Pick
PRODUCT QUALITY: Yocisku 9H nano ceramic coating is impressive when it comes to protecting your RV from damage. The extra later the product creates is extremely hard and it takes very harsh driving conditions to leave a mark on the paint. We also liked the packaging because it looks better than some standard plastic ones.
CUSTOMER FEEDBACK: As we've already mentioned, Yocisku 9H has a slightly lower rating (4.3 out of 5) as it seems some customers weren't particularly impressed with it. Some customers on Amazon claim that the product lasts way less than it's supposed to.
PRICE: This product is relatively inexpensive considering what you get. If you look at Amazon, you'll see that you can get it in on a discount deal for only $25.99 while the original price stands at $39.99.
ONLINE PRESENCE: Another reason why products ranked higher are better options is because you'll find more information about them online. We weren't able to find out much about Yocisku online. Still, the product quality was enough for it to rank this high on our list.
Glidecoat RV
4. Glidecoat RV Ceramic Coating
RVs are known for the added challenge of gelcoat, which is more porous than it is with aluminum and steel. This can lead to staining and make cleaning the vehicle much harder. Luckily, this is something experts at Glidecoat are aware of and they created their own RV ceramic coating.
Why It's Our Fourth Pick
PRODUCT QUALITY: The best thing about Glidecoat RV is that it addressed the issue we mentioned above. The product has the power to restore your gelcoat to a better-than-new-finish. It bonds with the surface and creates the protection layer your RV needed. Glidecoat's packaging looks amazing, which makes this product even better.
CUSTOMER FEEDBACK: While there's an Amazon page for this product, there are no user-submitted ratings. However, if you do some research online, you can find plenty of comments made by satisfied customers.
PRICE: There's no price listed on Amazon, but if you check out Glidecoat's website, you'll see that the Glidecoat RV is available for $85.
ONLINE PRESENCE: When evaluating this product, we looked at the Glidecoat website and found an impressive amount of information available on the site. On the Glidecoat RV page, you'll find a table that helps you calculate how many bottles is enough for your RV's size.
HydroCharge
5. HydroCharge Ceramic Spray Coating
Another ultimate DIY product on our list is HydroCharge brought to you by Chemical Guys. This product is extremely easy to apply and it may be exactly what you wanted for your RV. We should also mention that Chemical Guys are one of the biggest names in the sector, which tells you how good their products are.
Why It's Our Fifth Pick
PRODUCT QUALITY: Being another product that uses the SiO2 formula, HydroCharge is something you cannot go wrong with. Alongside protecting your RV from dirt and debris, this coating also does a nice job of blocking UVA and UVB rays. What we really liked about HydroCharge is that it comes in a spray format which takes the application process to the next level. All you have to do in order to apply the product to your RV is to squeeze the trigger.
CUSTOMER FEEDBACK: The product's rating on Amazon is 4.6 out of 5 and the majority of customers were satisfied with it. You can also find plenty of user-posted pictures of the product on Amazon.
PRICE: The easiest way to get HydroCharge is to order it on the official Chemical Guys website. Onc bottle costs $39.99 while the price of the entire kit is $69.99.
ONLINE PRESENCE: Being one of the biggest brands around, Chemical Guys have a strong online presence. They're on all social media and their Instagram shop is a great place to buy RV cleaning supplies.
Xtreme RV 9H
6.
Xtreme RV 9H is another ceramic coating product designed specifically to suit RV owners' needs. What we liked the best about the fact that it bonds perfectly to all outer RV surfaces. In other words, whether you need ceramic coating for RV roof, glass, or headlights, this is the product for you.
Why It's Our Sixth Pick
PRODUCT QUALITY: At Xtreme, they worked specifically on this product to give RV owners a better ceramic coating option than the ordinary RV sealers, waxes, and polishes. Instead of producing a slick shine only on painted surfaces, Xtreme RV 9H works perfectly on all hard exterior RV surfaces as well. It contains high UV protection and according to the manufacturer, it gives the vehicle a durable shine that lasts up to two years.
CUSTOMER FEEDBACK: Although unavailable on Amazon, we found comments about Xtreme RV 9H elsewhere. Most RV owners who decided to give this product a go were satisfied with it. On eBay, Xtreme Nano has 99.2% positive feedback.
PRICE: Xtreme RV 9H is one of the many ceramic coating products available on the official Xtreme 9H website. You can get it for $84.95.
ONLINE PRESENCE: The people behind Xtreme 9H are on all popular social media platforms, including the emerging names such as Snapchat and TikTok. Given their strong social media presence, reaching out to them on social media shouldn't be tough.
Nano Bond Ceramic Coating PRO
7. Nano Bond Ceramic Coating
Nano Bond Ceramic Coating PRO is a product specially designed to suit all vehicles. Whether it's a car or RV you want ceramic coating, this is one of the products you simply have to consider getting. It's best known for the crystal gloss it produces on almost all surfaces.
Why It's Our Seventh Pick
PRODUCT QUALITY: Created with the newest Nano Bond formula, the product offers ultimate protection from all potential damages. According to the information available on their site, the coating can last for up to three years, and reapplying it isn't tough. It comes in a standard bottle and no RV owner should have trouble applying it. However, keep in mind that the bottle is relatively small (30ml) and you'll need more than one for a standard-size RV.
CUSTOMER FEEDBACK: The product is rated 4.4 out of 5 on Amazon. Most customers were satisfied with the product but they complained about the bottle size, especially truck and RV owners.
PRICE: You'll find Nano Bond Ceramic Coating PRO on both their website and Amazon. It doesn't matter where you choose to shop as the price is the same on both sites - $36.90. Again, you'll need more than one to coat your RV.
ONLINE PRESENCE: When it comes to Nano Bond's online presence, you'll find the most about them on their official website. They're not as active on social media though.
CMX Ceramic Spray
8. Mothers CMX Ceramic Spray Coating
CMX ceramic spray coating is one of the more affordable options on the market. Considering the price, the value you get in return is quite high. With that said, this product is the perfect option for those looking to make their RV shine on a budget.
Why It's Our Eighth Pick
PRODUCT QUALITY: Made from a SiO2 and TiO2 blend, CMX ceramic spray coating is another product worth considering. As we've already said, it's an affordable spray that gets the job done. Obviously, the final result won't be as good as with some of the more expensive options. Still, we really liked the protection CMX ceramic spray offers. It comes in a plastic packaging that makes spraying extremely easy.
CUSTOMER FEEDBACK: On Amazon, this product holds a rating of 4.5 out of 5. While most comments we found were positive, there were some complaints made by multiple customers. The biggest issue they found with the product is that it creates dried up crystal flakes on the paint.
PRICE: At the moment, CMX ceramic spray coating is discounted on Amazon and you can get it for only $17.59. The original price is $21.99.
ONLINE PRESENCE: Mothers, the company behind this affordable product, has a neat website that provides all the important information. They could, however, invest more in their social media presence.
Conclusion
When you take into consideration all the benefits ceramic coating your RV comes with, it makes a lot of sense to do it. This is especially the case because you can apply it yourself. Most kits are DIY-friendly and RV enthusiasts will find the project to be relatively easy. All the products on our list offer quality ceramic coating for RV outer parts and opting for any of them makes a lot of sense. We recommend the products from the top of the list as they offer the best protection, last the longest, and have tons of positive feedback.