Water is a powerful element that can cause serious damage to your vehicle, motorcycle, or vessel. One of the first parts that gets in direct contact with water is the coat of paint. On top of the paint, there is a protective clear coating which deteriorates over time. Apart from water, UV sun rays, bird droppings, dirt, and chemical contaminants also damage this surface layer making the color lose its glow and, worst-case scenario, lead to oxidation and rust. Car care products that can help with these common problems are hydrophobic coatings that use state-of-the-art water-repellent technology to keep these issues at bay.
It would be an understatement to say that there are dozens of coatings with hydrophobic properties. What's more, deciding which product to choose can be a serious pain in the neck for someone looking for a solution fast.
That's why we decided to create a list of the best hydrophobic coating solutions for consumer and/or professional application for 2020.
Top 10 Hydrophobic Coating For 2020 Reviews
Explaining the Ranking System
What are the factors of our ranking system equation? There are four things we paid attention to from both consumer and detailing professional standpoints. Those are product quality, customer reviews, price, and online presence.
1. Product quality
First, we paid attention to the quality of the formulation of the hydrophobic coating, or in other words, the chemical composition of the coating. The percentage of certain elements has a huge impact on product quality, such as the amount of silicon dioxide or SiO2.
2. Customer reviews
Positive or negative customer experiences with the product have a serious impact on our decision whether to purchase the product or not. They speak volumes about the product itself, as well as contain important info about the company's customer service, shipping, return policies, and more.
3. Price
Price also plays an important role when we're deciding to buy a specialized product such as a superhydrophobic coating. The most expensive products are not necessarily the best ones but don't fall into the trap of thinking that the $5 ceramic coating you just bought is going to do miracles.
The prices in our 2020 Buyer's Guide are the ones we found at the time of writing the review. To be absolutely sure about the product's latest price and company offers, please check individual product pages.
4. Online presence
Serious brands are always on the pulse of their customers' demands and being present online is a must. This also gives out a message about brand identity and how the company engages with its community and prospective customers.
What Are the Benefits of a Hydrophobic Coating?
The formulation of hydrophobic coatings is a prime example of protective product technology. Hydrophobic means that it repels water and doesn't allow it to stay on the surface of your car or motorcycle. Depending on the coating, it can have water beading or water sheeting properties. Water beading means that the coating makes the water form into beads and stay on top of the surface, while water sheeting means that the water practically sheets off or runs off the car surface.
In addition to protecting your vehicle against the harmful effects of water, there are additional benefits of applying a hydrophobic coating.
1. Exceptional Protection
When the coating chemically bonds to the clear coat, it creates a protective layer. It then blocks harmful UV sun rays which can cause oxidation and ultimately rust. Moreover, coatings are typically engineered to be used on any porous surface which means that they provide the same level of protection to metal, plastic, and other porous surfaces.
Although these products are exceptionally effective, they don't provide nor guarantee protection from serious mechanical damage or scratches. So when you see descriptions like protected from scratches, this doesn't mean that ceramic coatings will act as surefire safeguards against flying rocks and pebbles for instance.
2. Longer Lasting and Cost-Effective
Hydrophobic coatings offer lasting protection from six months to several years if the coating is maintained properly, of course. So, when you look at the coating price, the price of the coating maintenance products, and the amount of money and time you would typically spend on maintaining the car, these coatings are definitely worth your while and money.
3. An Exceptional Finish
One special characteristic of these coatings is that they make the car paint pop. Their formulation adds that special glow and finish and makes your car look like you've just picked it up from a car showroom. Who doesn't love it when they're rolling down the street or countryside in their shiny and clean car?
4. Self-cleaning
An insanely amazing feature of superhydrophobic coatings is that they don't allow either water or dirt to cling around. When the water hits the surface and starts to glide down the vehicle, it gathers all the surrounding dirt which runs off together with it. This so-called self-cleaning effect prevents damaging chemicals from accumulating and affecting the paintwork and other surfaces of your car or motorcycle. Plus, they make maintenance and cleaning way, way easier and faster.
Are There Different Types of Hydrophobic Coatings?
Absolutely! The difference is in the chemicals used to make the coating which is directly connected to the lifespan of the hydrophobic coating. Coating or paint protective technology is always improving and currently, the most effective solutions are polymer-based, SiO2-infused, and hybrid hydrophobic coatings. Also, you can find them in different forms like liquid coatings, hydrophobic spray paint sealants, and paste-like coatings.
1. Polymer-Based
Polymer-based coatings are the paint protectants that were created after car wax. They are actually a synthetic version of waxes, so to speak, specially engineered to last longer than traditional waxes. These synthetic paint sealants as they are also called have excellent water resistance properties and come in different formats – paste, liquid, and spray.
2. SiO2 Infused
SiO2 infused paint protectants are hydrophobic coatings or ceramic coatings that offer the highest level of protection against water, UV rays, and environmental impacts. Thanks to the high amount of SiO2, it's also said that they have superhydrophobic and self-cleaning properties which altogether makes car cleaning and maintenance even easier. The additional advantage of hydrophobic ceramic coatings is that they give outstanding gloss.
3. Hybrid Solutions
Now, there's a third category of hydrophobic coatings which bridges the gap between the polymer-based and ceramic coatings. It has the qualities of both products and that's why they call them hybrids. Typically, these ceramic paint sealants come in spray liquid form and are very easy to apply. Detailing pros use these coatings to maintain and additionally extend the effects of nano ceramic coatings.
Now that we've covered the basics, here are the 10 best hydrophobic coatings for 2020.
Armor Shield IX Nano Ceramic Coating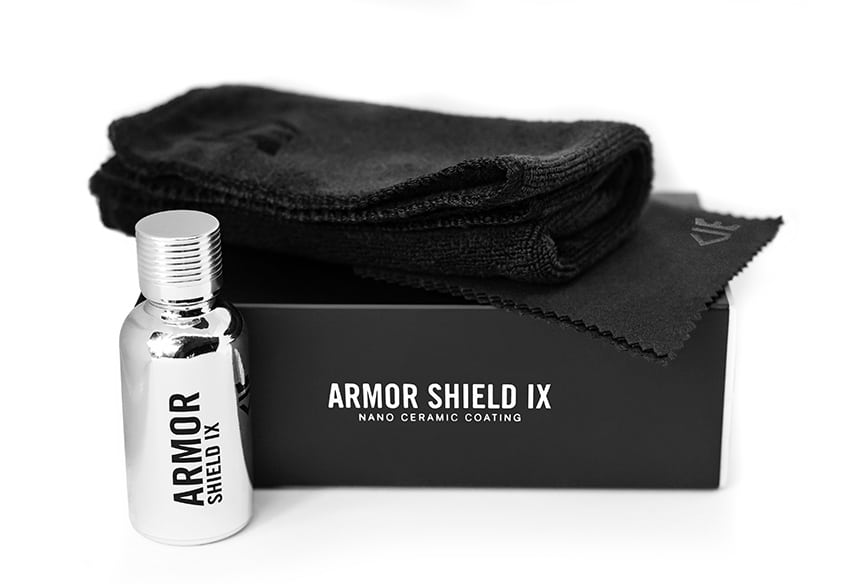 1. Armor Shield IX – by AvalonKing
Armor Shield IX by AvalonKing is hands down the best paint protective product in our opinion. It uses nano-ceramic technology and has insane hydrophobic properties. The company created this ultimate DIY kit containing an application sponge, three applicator suedes, a pair of protective gloves, and a microfiber buffing towel. It's ideal both for the average weekend warrior/car enthusiast and every detailing professional.
There is no way water will remain on your vehicle thanks to the water beading and water sheeting properties of Armour Shield IX. The amount of SiO2 is more than 80% which makes this ceramic coating particularly easy to apply for anyone without too much experience with paint coatings. Also, the product has scratch-resistant and self-cleaning properties which will undoubtedly help you retain the value of your car or motorcycle.
Another great feature of this ceramic coating is that it has amazing durability of up to five years. This means that you get long-lasting paint protection at an amazing price.
Why It's Our Top Pick
PRODUCT QUALITY: The formula of Armor Shield IX and the amount of SiO2 put it in the best possible range. If applied and maintained properly, the coating will last between 2 and 5 years.
CUSTOMER FEEDBACK: There are more than 2100 reviews of the product on the company's website alone. Customers report having a very positive experience with the product and there are even before and after pictures added by some car owners who used Armor Shield IX.
PRICE: One of the best things about this premium product is that it comes at a fantastic price of $69.99. The price is amazing considering that you can get up to 5 years of protection with this ceramic coating.
ONLINE PRESENCE: AvalonKing is doing a great job with their online brand. Apart from the description and other product-related information, the company has a great blog with great content for anyone interested in or working in the car detailing industry.
Here Are The Facts
Superhydrophobic coating properties.
Protection between 2 and 5 years for $69.99.
You need one 30 ml bottle or one DIY kit for a motorcycle or a regular car.
Free shipping in the US and Canada and free worldwide shipping if you buy two or more kits.
Nasiol ZR53
2. Nasiol ZR53 Nano Ceramic Coating
Nasiol ZR53 is the runner-up ceramic coating product with hydrophobic features on our list. The product can be applied to the paintwork, plastic trims, and bumpers. Formulation of the product contains nano technology which gives it amazing water-repellant features. It also protects the car surface and other treated car parts from mud, dust, grime, and other contaminants making maintenance easy. This car paint sealant is also scratch-resistant and can be used on car and motorcycle paint.
Why It's Our Second Pick
PRODUCT QUALITY: High-quality car paint sealant which offers protection against common paint-affecting issues for up to three years or 150 washes.
CUSTOMER FEEDBACK: There are 25 reviews total on the website most of which are four/five/star reviews.
PRICE: The price for a kit with a 50 ml bottle is $119.90.
ONLINE PRESENCE: The website is very informative and has great content sections for all detailing enthusiasts and professionals.
EXOv4 Ultra Durable Hydrophobic Coating
No products found.
9H Car Ceramic Coating
4. Color N Drive Deep Gloss 9H Car Ceramic Coating
9H Car Ceramic Coating by Color N Drive is another great ceramic coating alternative with great water-repellent properties. Moreover, this important feature makes car cleaning easier and less frequent as dirt, bird dropping, and other pollutants don't stick to the surface. This ceramic coating also provides protection against scratches, stone chips, iron powder, and UV.
Why It's Our Fourth Pick
PRODUCT QUALITY: This Color N Drive coating is designed to last up to five years after application with regular maintenance. The DIY kit is great for any level of detailing experience.
CUSTOMER FEEDBACK: Around 60 customers left their comments in the product's review section on the website many of which added images as proof of their positive experience.
PRICE: The product comes at a price of $59.99 with free worldwide shipping.
ONLINE PRESENCE: The website appears like a company's online shop at first glance which could be off-putting for some visitors. Color N Drive has a solid Instagram community with over 11k followers.
Nano Bond PRO Ceramic Coating
5. Nano Bond PRO Ceramic Coating
PRO Ceramic Coating by Nano Bond is a practical DIY kit for beginners and more experienced detailers. It has enhanced hydrophobic features, more specifically, water beading properties. This paint protectant safeguards the paint from water streaks, acid rain, fading, rust, paint transfer, scratches, chips, dust, and rust. The product also provides a high gloss finish.
Why It's Our Fifth Pick
PRODUCT QUALITY: PRO Ceramic Coating uses nano ceramic technology and possesses great water-resistant properties. The product will provide paint protection from 2 to 3 years.
CUSTOMER FEEDBACK: There are no reviews or testimonials on the website, however, most of their customers on Amazon are quite satisfied with the results
PRICE: The 30 ml bottle kit comes at a very affordable price of $36.90.
ONLINE PRESENCE: It's clear that the company is just starting to work on their online presence. They have a 4.4 star average on Amazon though with over 400 reviews.
CQuartz TiO2
6. CQuartz TiO2
CQuartz TiO2 by CarPro is a product from their line of paint protectants which creates a hard hydrophobic finish. What's more, the formulation also protects the car paint from the harmful effects of UV, industrial and organic fallout, acid, alkaline, light wash-marring, and abrasion. CQuartz lifespan is up to two years and it can be used on paint, wheels, chromes, metals, and plastics. An additional benefit of CQuartz is its deep and rich gloss with self-cleaning properties.
Why It's Our Sixth Pick
PRODUCT QUALITY: This hybrid coating has SiO2 and Tio2 which create a strong protective layer with great durability.
CUSTOMER FEEDBACK: CQuartz has only eight reviews on the website, however, all of them are 5-star reviews.
PRICE: The 50 ml kit costs $75.99
ONLINE PRESENCE: The company has a lot of car care products making it a bit difficult to navigate the website. They have over 31k followers on Instagram.
Ceramic Spray Coating
7. Turtle Wax Ceramic Spray Coating
This hybrid ceramic paint sealant by the famous company Turtle Wax is a highly affordable solution. Its excellent hydrophobic properties make it an excellent product that can protect your car paint, glass, headlights, trim, and wheels. Being a hybrid, the lifespan of this ceramic hydrophobic spray coating is significantly shorter and lasts up to 12 months. Typically, car detailing experts use products such as this one to maintain the nano ceramic coating for instance.
Why It's Our Seventh Pick
PRODUCT QUALITY: Great SiO2-infused formulation which provides protection against water and the usual contaminants that lasts up to a year.
CUSTOMER FEEDBACK: There are only two customer reviews on the official website. However, 78% of the total 4,345 people who reviewed the product on Amazon gave it the best score.
PRICE: As it is a hybrid ceramic hydrophobic spray coating, it has a highly affordable price of only $13.00, which also accounts for the product's much shorter lifespan.
ONLINE PRESENCE: The company has a long tradition and their online presence is a true reflection of their brand. They have a huge community across social media.
Ceramic Wax PRO
8. Ethos Handcrafted Car Care Ceramic Wax PRO
This hydrophobic coating by Ethos Handcrafted Car Care contains 30% of pure SiO2 not only protects the paint against all environmental impacts but it also gives it a beautiful shine. The product is created to be used on cars, motorcycles, stage paint, fiberglass, stainless steel, windows, chrome, and epoxy. The product offers a one-year protection per application and although it has the PRO in its name, it is fairly easy to apply.
Why It's Our Eighth Pick
PRODUCT QUALITY: This is a high-quality hydrophobic ceramic wax that outperforms typical car waxes. It incorporates
CUSTOMER FEEDBACK: Ceramic Wax PRO has over 800 5-star reviews on the website. Visitors can also find before and after images that show the product's effectiveness.
PRICE: The kit is sold at $28.95 and the company offers free shipping on all orders over $75 within the USA.
ONLINE PRESENCE: The website has great content and a good blog section for anyone looking to learn more about car care.
CC36 Ceramic Coating
9. Sonax CC36 Ceramic Coating
CC36 Ceramic Coating by Sonax is a paint protectant that guards the car surface against aggressive contaminants like road salt and tar. It has high hydrophobic properties which keep water and dirt away from the treated car parts. This also helps with car cleaning and maintenance. Also, it certainly helps with enhancing the intensity of the paint and adds a deep shine to it.
Why It's Our Ninth Pick
PRODUCT QUALITY: The product offers high quality protection, however, for best results, the company recommends using the product in combination with one of their polymer paint protectants to achieve protection for up to three years.
CUSTOMER FEEDBACK: There isn't a review section on the website, however, the product has 96 ratings on Amazon and a 4-star overall rating.
PRICE: At a price of $79.99 for 75 ml, CC36 offers good value.
ONLINE PRESENCE: Although the website of this famous brand is user friendly, the company could really benefit from a reviews/testimonials section and offer more content to its customers.
Adam's UV Ceramic Paint Coating
10. Adam's UV Ceramic Paint Coating
This product uses patent-pending Ceramic Glow Technology which enables you to see where the coating was applied under a UV Flashlight. Moreover, this makes the coating ideal for inexperienced users who want to apply the coating themselves. The product has a great water-resistance level thanks to which it repels water and other elements. It can be used on painted surfaces, plastic engine bay components, headlights, and more.
Why It's Our Tenth Pick
PRODUCT QUALITY: The product uses additional glow technology making it a great choice for detailing first-timers. If applied and maintained well, it can last up to five years.
CUSTOMER FEEDBACK: There are seven customer comments on the website with one stating that the application is not as easy as the producer states.
PRICE: The 50 ml bottle costs $75.00.
ONLINE PRESENCE: The company provides very useful content and moderates a forum where customers can get connected with other users and find great information. The company has a huge following across social media.
Final Thoughts
We hope that our 2020 Best Hydrophobic Coating review and buyer's guide will help you choose the best ceramic coating for your machine. Choosing the top 10 was not an easy task because all brands that made it on our list are fully dedicated to providing the best quality superhydrophobic coating solutions. Now it's up to you to decide which of these product descriptions meets your expectations, fits into your budget, and matches the time and effort you want to invest in protecting your car. One thing is certain though – getting a hydrophobic coating is a smart investment that can preserve the value of your vehicle.