Do you ever feel like your head's about to explode when it comes to choosing a ceramic detailing spray? There are different formulas, various concoctions of oils and waxes, and some sprays formulated to tackle specific issues. Choosing the best one ain't easy because it all depends on your situation!
There's no "one size fits all" solution when it comes to selecting a good car detailing spray. Take a look at the situation:
The finish you want your car to have
What sort of protection you need from UV rays and general exposure
How much time you want to put into maintaining your vehicle
Budget and other things
So, yeah, it's easy to feel overwhelmed. But check out our list of the top three ceramic car detailing sprays (plus, two as a bonus) to help you. You're welcome.
1. Avalon King – Armor Shield Lite
1. Avalon King - Armor Shield Lite
Avalon King's spray coating can function as a pre-treatment to give your car's paintwork an extra layer of protection against UV rays, road salt, rust, and other environmental factors that can cause paint damage.
This spray gets beer points for being awesome and here's why.
Product Quality:
Rust and Long-lasting Protection: Avalon King's spray coating offers the best protection with advanced formula designed to guard against damaging elements and the build-up of rust and corrosion on various materials. Its effectiveness is guaranteed to last for 3 to 6 months.
Excellent Paint: The spray creates a durable and ultra-hydrophobic finish that prevents water and dust to keep your tools, car parts, and other items looking shiny.
Work under any conditions: Hot, cold, wet, or dry — the spray coating is designed to apply in any of these conditions.
Ease of Application: Applying Avalon King's spray coating is as easy as 1, 2, 3. It works on diversified exterior surfaces, like paint, glass, lights, trim, plastics, wheels and tyres.
Low Maintenance: This spray protects your car's paintwork without worrying about repainting it or modifying the car.
Customer Review: The awesomeness continues as it received more than 100 reviews with five stars. Customers are satisfied with the superior quality product, customer service, and return policy.
Price: $34.99 for 16 oz that can cover two vehicles.
Customer Care:
Satisfaction Guarantee: If you're dissatisfied, Avalon King can refund or send customer a new product.
90 Days Return Policy
Overall score: 9/10
2. Chemical Guys – Hydrospeed Ceramic Quick Detailer
2. Chemical Guys - Hydrospeed Ceramic Quick Detailer
HydroSpeed Ceramic is a quick detailing spray designed to tackle all the most important aspects of car care. It works as a quick detailer, clay bar lube and cleaner, and an all-around protectant.
Chemical Guys know what they're doing with this detailing spray.
Product Quality:
Smooth application: Smooth all the way — no streaking or wiping needed, no visible residue!
No drying time: Another great thing about this product is that it doesn't need any drying time. You can spray this on and go — no need to wait for it to dry.
Great protection: This one offers UV protection for your car's paint. It leaves a durable layer of protection that will last for weeks.
Easy removal: The finest feature is how simple it is to take off. Just wash it away with water and no harsh chemicals are needed.
Customer Feedback: 87 reviews with 4.8 - 4.9 stars. Customers are showing sharing their satisfaction with how easy it is to use and the product's usefulness.
Great price: $24.99 for a 16 oz. bottle for a quick detailer or stand-alone product.
Overall Score: 8.5/10
3. Meguiars – Hybrid Ceramic Detailer
3. Meguiars - Hybrid Ceramic Detailer
The Hybrid Ceramic Detailer includes carnauba wax, synthetic polymers, and silicone, all popular car wax ingredients. It's a special combo that goes together like burger and fries.
Good Protection: The Hybrid Ceramic Detailer provides excellent protection for your car's paint and can be applied as often as every wash. This means you can protect your vehicle from the elements year-round and extend the lifespan of your car's paint.
Easy to Apply: It's a beginner-level product so it's easy to use. You apply it similarly to how liquid wax would be. Put a small amount on a microfiber applicator and spread it over your car.
Versatile: It can be used on many different surfaces and materials, including paint, metal, glass, chrome, and more. It's also a great choice for your other rides — motorbikes, bicycles, and boats.
Moderate Finish: However, this may not be the best choice for people who want a super high-gloss shine, as it only leaves a moderate gloss.
Customer Feedback: Unknown. This ceramic protection is new to the market so there's no reviews yet.
Affordable Price: $24.67 for a 26 oz. bottle. Meguiars' ceramic car coating gives us more money to buy burgers!
Overall Score: 7.5/10
4. Gyeon – Q2M Ceramic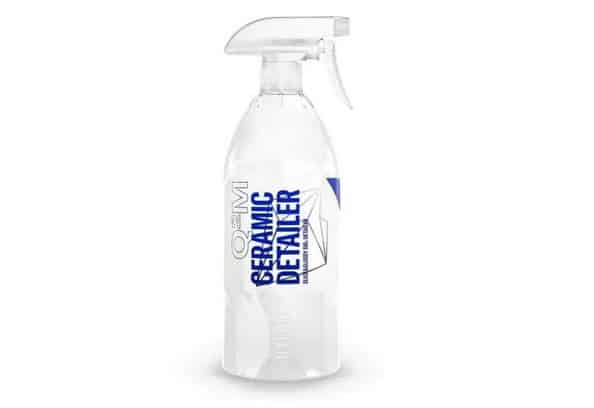 4. Gyeon - Q2M Ceramic
The detail spray from Gyeon covers all the basics at a low price.
Safe for all surfaces: It works on all car surfaces, with or without being coated, and even wet or dry paint.
Durability: Gyeon's coating is guaranteed to last up to 6 weeks on your car.
High gloss finish: A streak-free and high gloss finish are just a small spray away. Go easy because too much can cause smearing and staining.
Price: $17.99 for a 400ml bottle.
Overall score: 6.5/10
5. Autoglym – Rapid Ceramic Spray
5. Nano Bond Ceramic Coating
Hey, DIY-ers, the Autoglym Rapid Ceramic Coating Spray is an at-home detailing product with some features.
Why It's the Fifth Pick
Application: After the application, the spray takes time to achieve its best results..
Durability: It uses the ceramic hybrid formulas that ensure a protective coating lasting up to 3 months of hydrophobic protection.
Mirror-like finish: Even if your car's paint is outdated, it gives your ride a deep shine that anyone can detect from a distance.
Customer Feedback: 16 reviews with 5 stars on Autoglym's website.
Price: $22.15 for a 16 oz. bottle.
Overall score: 6/10
Final Thoughts
There you have it. These five ceramic quick detail sprays are all stellar products to guard your car from wear and tear. They have different features but they make your car the shiniest in the 'hood!
Sit back, sip your chosen brew, and take your time with this list. It's not a deep question like the meaning of life, but still: priorities. If your problem is endurance and longevity, then Armor Shield Lite is your king. It gives you more durable protection and smacks harsh elements in the face. What else do you need?