Table could not be displayed.
There are several ways to protect your daily driver from exposure to harmful elements. Whether you opt for old school carnauba wax or have hopped on board the hybrid spray-on products bandwagon, drivers across the globe have multiple paint protection options at their disposal.
However, ceramic coatings for vehicles are quickly gaining momentum – especially those of the DIY variety. Today's DIY nano-ceramic coatings are far superior to those introduced about five years ago. And just like any other consumer high durability product for best ceramic coating, there are some that offer exceptional value and produce superior results and some who are not as effective.
So – let's introduce you to the top 10 ceramic coating products for cars that the average do-it-yourselfer can apply. In the information below, we'll provide you with 10 great high-quality car care products that are marketed as ceramic coatings, either a hand-applied nano-ceramic product or spray-on ceramic coating.

Top 10 DIY Ceramic Coatings For Cars Reviews
We'll explain what these best high-quality ceramic coating products for cars are intended to do, the different types of ceramic coatings, and most importantly – which ones provide the best value.
Explaining the Ranking System
We've found 30 of the top-selling ceramic coating products for cars. And believe it or not, most of them are sold through Amazon. The rankings are based on four important criteria:
1. The quality of the product
We determined this based on the manufacturer's claims of longevity, durability, and results produced after successful prep work and application. It also factors the product packaging, order processing, and customer service.
2. Consumer feedback
The second criterion measures consumer feedback or posted product reviews on best ceramic coating. This includes their satisfaction with the product, it's packaging, ease of prep work and application
3. Price
This will consider the price of the product.
4. Online presence
The final criteria measure the products or company online presence including social media, customer reviews, third-party feedback, and more.
Now we'll get down to meat and potatoes of this article. Based on the criteria outlined above, these are the top 10 ceramic coatings for the do-it-yourselfer that we'd recommend.
1. Armor Shield IX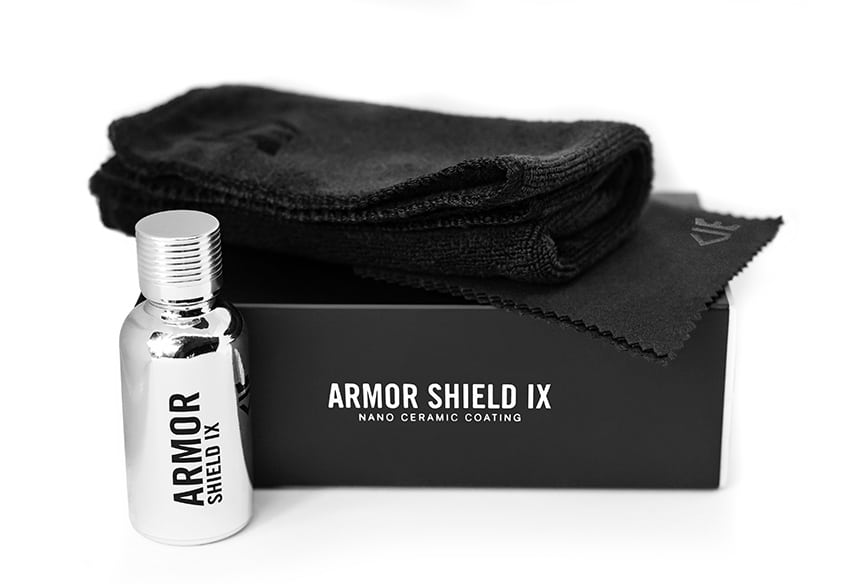 1. Armor Shield IX – by AvalonKing
With more than 1,000 positive reviews ratings averaging 4.8 out of 5 on the product, customer service, application, and effectiveness on their website, Armor Shield IX is our top pick for an exceptional DIY nano-ceramic coating. This coating can be used in any solid and porous surface including clear coating, windshields, wheels, plastic trim, chrome, emblems, grilles, carbon fiber, and more.

Armor Shield IX DIY kit comes with everything you need to correctly apply the coating including (1) 30ml bottle, applicator sponge, 5 suede applicator pads, a buffing towel, protective gloves, and detailed instructions. The high quality product is protected by a two-year expected longevity guarantee – a first in the DIY ceramic coating segment.

It's priced at $74.99 per kit and is sold directly through their website. Standard shipping is free in North America, and their customer support is legendary. Plus, their blog section is filled with high-quality content that is easy to read, informative, and provides tons of details about the detailing world.
Why It's Our Top Pick
PRODUCT QUALITY: When you receive the Armor Shield IX coating, you'll instantly see the difference between competitors. The packaging is incredible – but that's just the beginning.
CUSTOMER FEEDBACK: The high-durability product itself has been reviewed by thousands of customers, each expressing positive feedback on how well it works, the company's superior customer service, and simple return policy.
PRICE: At $69.99 per kit, and an expected longevity warranty of two years, it's the best value on the market. With every additional kit you need to purchase, the company AvalonKing offers discounts – providing more value.
ONLINE PRESENCE: When you Google AvalonKing, you can see their transparency on full display. This company has an active social media presence, including an awesome YouTube.com channel that offers fun and entertaining video content. Their blog is always at the top of Google searches, and when you have a question – click the chat button on their website and you'll get a real person to answer questions. 
Here Are The Facts
(1) The kit is good enough for a coupe. (2) kits will protect a four-door sedan or mid-sized SUV. (3) kits are best for full-sized pick-up or SUVs.
Armor Shield IX is discounted based on how many kits you purchase. So, for one kit – it's $69.99, two kits, $104.99, and three kits giving you a buy two get one free at $139.99.
With a SiO2 percent of 84%, it's the strongest formulation on the DIY market.
The company is continually developing new high-durability products, such as a specially formulated pH neutral, wax-free maintenance shampoo, an SiO2 Boost Spray, and more.
2. CarPro Cquartz DIY Kit
No products found.
3. Migliore Strata Coating
No products found.
4. GlideCoat Marine Ceramic Coating – 50ml Bottle
No products found.
5. Nano Bond Ceramic Coating
No products found.
6. Drexler Ceramic Coating Kit
No products found.
7. HydroSilex Recharge – Spray-On Ceramic Coating
No products found.
8. Mothers CMX Ceramic Spray
No products found.
9. Wolfgang Concours Series WG-3500 Silica Spray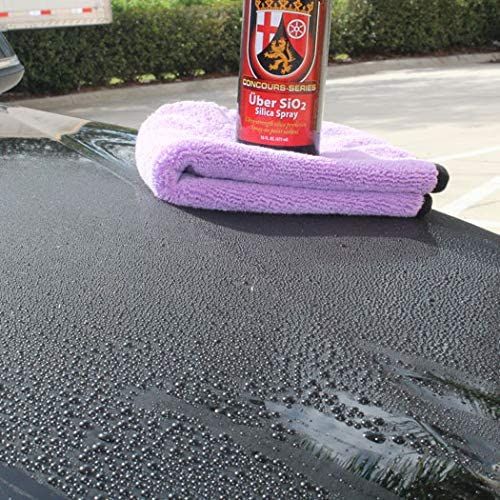 9. Wolfgang Concours Series WG-3500 Silica Spray
Unleash the power of Wolfgang Uber SiO2 Silica Spray for unbeatable protection.
Advanced blend of silica dioxide and super-polymers for a hard-as-nails finish.
Effortless application; creates a hydrophobic layer that shines like a wax.
Versatile use as a standalone sealant or top coat for existing paint coatings.
Experience the perfect balance of protection and stunning shine.
10. Ethos Ceramic Wax 9H
No products found.
Buying Guide For The Best DIY Ceramic Coatings
What Are the Benefits of a Ceramic Coating?
There are a ton of exceptional videos, Instagram posts, and even word of mouth advertising that boast all the benefits for ceramic coating products. However, there are a few misconceptions as well. When you break it down simply, a ceramic coating is designed to amplify what's underneath. It doesn't restore the shine of faded paint – but, it can restore brilliance on plastic trim.
This is a major reason why all manufacturers of ceramic coatings recommend completing paint correction on cars older than a year – or those with any minor scratches or paint fading. When the prep work is completed as directed, and the product is applied as recommended, the benefits of ceramic coatings are plentiful.
1. Exceptional Protection:
Car wax or paint sealant does a fine job of providing a strong layer of protection on paint and some other vehicle surfaces. However, the nano-ceramic coating is much stronger. In fact, natural paste wax will only hold up for about 3 months, paint sealants for maybe a year, with a nano-coating lasting a few years.
2. Reduces the Potential of UV damage, Oxidation, or Rust:
The ceramic coating's main ingredient is Silicon Dioxide or SiO2. The higher the percentage of SiO2, the stronger and longer-lasting the protection. It blocks UV rays from penetrating the paint surface, which eliminates the potential of oxidation – which leads to corrosion and rust.
3. Longer Lasting and Cost-Effective:
Applying a nano-ceramic coating will provide much more protection than wax or sealants – up to 3 to 5 years in some cases. When you factor the time and expense of removing wax, reapplying, and doing that every three months, you'll save a ton with ceramic coatings.
4. An Exceptional Finish:
When you apply the coating onto a clean and damage-free paint surface, it produces an incredible finish. For vehicles with gloss paint, the vehicle's brilliance will pop – especially in direct sunlight. People with a matte finish notice that the matte appears much deeper.
5. Can be Used on Any Porous Surface:
A high-quality DIY nano-ceramic coating can be used on any vehicle surface that is solid and porous. This includes a clear coat of paint, windows, headlights, and taillight covers, wheels, plastic trim, and more.
Are There Different Types of Ceramic Coatings?
YES. And this is especially important to clarify. By definition, a "ceramic" substance is inorganic in nature. This means that the term can be used loosely to describe ingredients that help to replicate some benefits.
There are essentially three different type of products that use the term "ceramic coating".
1. SiO2 Infused
When nano-ceramic coating was introduced by NASA, it used nanotechnology and a blend of Silicon Dioxide or SiO2. This ingredient is essentially liquid Quartz. When it is applied to a surface, the nano-technology penetrates microscopic imperfections found on porous surfaces, like clear coats for example. It fills those minor imperfections, then leaves a solid layer of 9H hardness.
Generally, the higher the SiO2 percentage and the stronger the purity level – the harder the coating will cure, and the longer it will last.
2. Polymer-Based
A polymer is – by definition, is NOT a ceramic material. But, some "ceramic coating sprays" are comprised mainly of polymer-type ingredients. They will bond to vehicle surfaces but does not have the hardness due to a lack of SiO2.
Since there are virtually no regulations guarding the classifications of vehicle care products, it's important to complete some research with regards to whether they are truly ceramic in nature.
3. Hybrid Solutions
The final classification of ceramic coatings are ones that are typically spray-on products. This would be the hybrid class, where the ingredients are a proprietary blend of SiO2, Polymers, and sometimes, even wax of the synthetic nature.
These are the easiest to apply, and the cheapest, but they are the ones that don't hold up as long.
Breaking Down the Ceramic Coating Costs
In the DIY ceramic coating world, you really get what you pay for. There are three price categories, that tend to describe the level of paint protection product that you should expect.
Under $30:
These products are typical of the hybrid spray variety. You can expect to get no more than six months of protection on your vehicle.
$30 to $60:
When you pay for ceramic coating products at this level, the paint protection longevity can double – to about a year to 18-months.
Above $60:
At this price-point, if a ceramic coating does not back up their expected warranties for at least two years, it's a waste of your investment.
Final Thoughts
The ceramic coatings listed above will do a great job protecting your vehicle from exposure to UV rays, road grime, bug splatters, and bird droppings. However, each of them also requires solid prep work, and following the explicit directions for applying.
Take time to review the list above and find out more about each that appeals to you. If you complete a few hours of research, ask questions of the manufacturers, and previous customers – finding the perfect DIY ceramic coating will be easier than you'd think.