There are several ways to protect your daily driver from exposure to harmful elements. Whether you opt for old school carnauba wax or have hopped on board the hybrid spray-on products bandwagon, drivers across the globe have multiple paint protection options at their disposal.
However, ceramic coatings for vehicles are quickly gaining momentum – especially those of the DIY variety. Today's DIY nano-ceramic coatings are far superior to those introduced about five years ago. And just like any other consumer high durability product for best ceramic coating, there are some that offer exceptional value and produce superior results and some who are not as effective.
So – let's introduce you to the top 10 ceramic coating products for cars that the average do-it-yourselfer can apply. In the information below, we'll provide you with 10 great high-quality car care products that are marketed as ceramic coatings, either a hand-applied nano-ceramic product or spray-on ceramic coating.

Top 10 DIY Ceramic Coatings For Cars Reviews
We'll explain what these best high-quality ceramic coating products for cars are intended to do, the different types of ceramic coatings, and most importantly – which ones provide the best value.
Explaining the Ranking System
We've found 30 of the top-selling ceramic coating products for cars. And believe it or not, most of them are sold through Amazon. The rankings are based on four important criteria:
1. The quality of the product
We determined this based on the manufacturer's claims of longevity, durability, and results produced after successful prep work and application. It also factors the product packaging, order processing, and customer service.
2. Consumer feedback
The second criterion measures consumer feedback or posted product reviews on best ceramic coating. This includes their satisfaction with the product, it's packaging, ease of prep work and application
3. Price
This will consider the price of the product.
4. Online presence
The final criteria measure the products or company online presence including social media, customer reviews, third-party feedback, and more.
Now we'll get down to meat and potatoes of this article. Based on the criteria outlined above, these are the top 10 ceramic coatings for the do-it-yourselfer that we'd recommend.
1. Armor Shield IX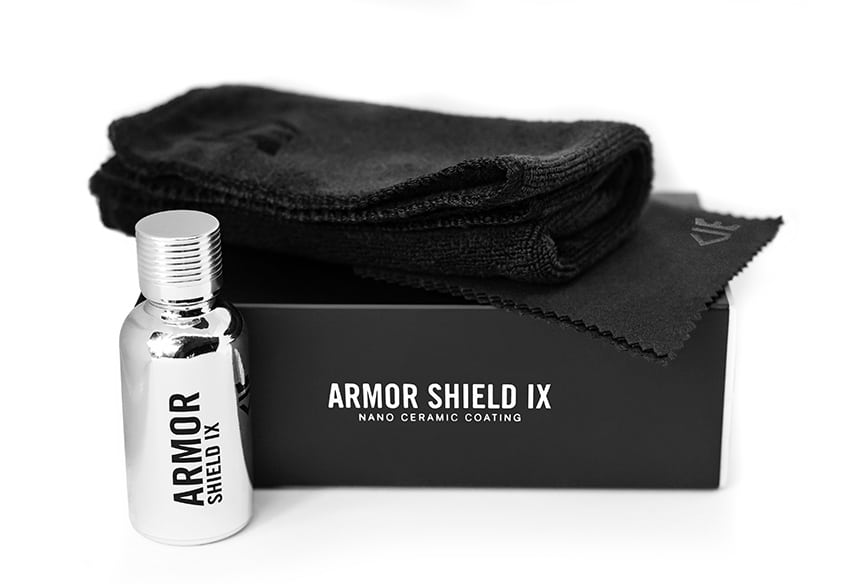 1. Armor Shield IX – by AvalonKing
With more than 1,000 positive reviews ratings averaging 4.8 out of 5 on the product, customer service, application, and effectiveness on their website, Armor Shield IX is our top pick for an exceptional DIY nano-ceramic coating. This coating can be used in any solid and porous surface including clear coating, windshields, wheels, plastic trim, chrome, emblems, grilles, carbon fiber, and more.
Armor Shield IX DIY kit comes with everything you need to correctly apply the coating including (1) 30ml bottle, applicator sponge, 5 suede applicator pads, a buffing towel, protective gloves, and detailed instructions. The high quality product is protected by a two-year expected longevity guarantee – a first in the DIY ceramic coating segment.
It's priced at $69.99 per kit and is sold directly through their website. Standard shipping is free in North America, and their customer support is legendary. Plus, their blog section is filled with high-quality content that is easy to read, informative, and provides tons of details about the detailing world.
Why It's Our Top Pick
PRODUCT QUALITY: When you receive the Armor Shield IX coating, you'll instantly see the difference between competitors. The packaging is incredible – but that's just the beginning.
CUSTOMER FEEDBACK: The high-durability product itself has been reviewed by thousands of customers, each expressing positive feedback on how well it works, the company's superior customer service, and simple return policy.
PRICE: At $69.99 per kit, and an expected longevity warranty of two years, it's the best value on the market. With every additional kit you need to purchase, the company AvalonKing offers discounts – providing more value.
ONLINE PRESENCE: When you Google AvalonKing, you can see their transparency on full display. This company has an active social media presence, including an awesome YouTube.com channel that offers fun and entertaining video content. Their blog is always at the top of Google searches, and when you have a question – click the chat button on their website and you'll get a real person to answer questions.
Here Are The Facts
(1) The kit is good enough for a coupe. (2) kits will protect a four-door sedan or mid-sized SUV. (3) kits are best for full-sized pick-up or SUVs.
Armor Shield IX is discounted based on how many kits you purchase. So, for one kit – it's $69.99, two kits, $104.99, and three kits giving you a buy two get one free at $139.99.
With a SiO2 percent of 84%, it's the strongest formulation on the DIY market.
The company is continually developing new high-durability products, such as a specially formulated pH neutral, wax-free maintenance shampoo, an SiO2 Boost Spray, and more.
2. CarPro Cquartz DIY Kit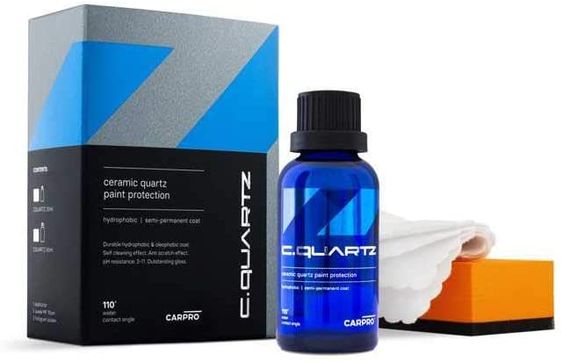 2. CarPro Cquartz DIY Kit
CarPro is a proven name in the ceramic coating industry. Their CQuartz DIY Nano Ceramic Coating is another top choice for consumers. Their formulation is 70% SiO2, so it's not as potent as Armor Shield IX, but that's still an impressive percentage of quartz.

In their kit, they offer a 50ml bottle of CQuartz (good enough from coupes to sedans), the applicator pad, and suede microfiber cloths. They are a bit fuzzy online about whether they offer gloves or a buffing towel, so you might have to purchase those items separately.
Why It's the Second Pick
PRODUCT QUALITY: With regards to quality, it's simple math. 84 is greater than 70. The lower SiO2 does expend the application window, meaning it's easier to apply in warmer or colder conditions than the top pick, but not as strong.
CUSTOMER FEEDBACK: There are multiple positive views on Amazon – and that's the only place to purchase it in North America. Contacting them for support is not as simple as the top pick.
PRICE: At $78.99 per 50ml kit, it does offer you a great value.
ONLINE PRESENCE: CarPro is comprised of multiple distributors based on geographic location. So, their online presence is based mainly on your location.
3. Migliore Strata Coating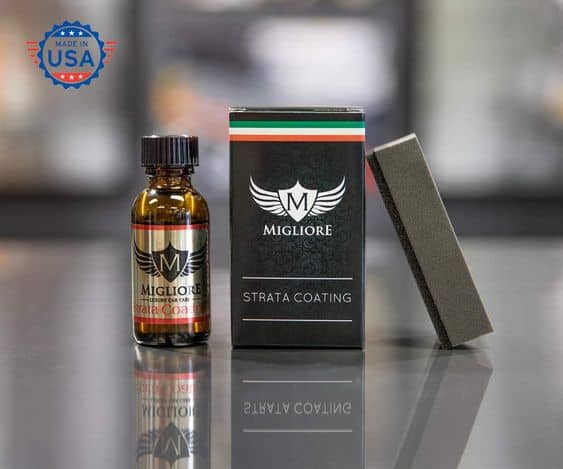 3. Migliore Strata Coating
Coming in third on our list is an exceptional coating, but a bit too pricy for expected longevity of only a year. Migliore Strata DIY ceramic coating is a hybrid product – combining SiO2 with synthetic sealants. This unique formulation comes with some pros and cons.
On the positive, it provides a deep shine. On the downside, this is one of the most difficult DIY coatings to apply. It takes some patience, but if you're willing to invest the time and learn as you go, it's a nice coating.
Why It's the Third Pick
PRODUCT QUALITY: While we spend a lot of time researching the high quality product, finding out specifics about formulation was nearly impossible. That's a red flag – as lack of transparency can be hard to figure out. Plus, it's a 12-month formula – about 50% less than the two above.
CUSTOMER FEEDBACK: There are several reviews on Amazon.com – but ratings average about 4.3 out of 5 stars.
PRICE: At $89.99, it's a bit pricy for the length of time it coats. The size of the bottle you ask? Well, that's another problem here. We looked high and far but couldn't determine the exact size. It appears to be a 40 or 50ml bottle by the pictures.
ONLINE PRESENCE: They are on Facebook and have a great following. Plus, being based in Connecticut is a good thing for North American customers.
4. GlideCoat Marine Ceramic Coating – 50ml Bottle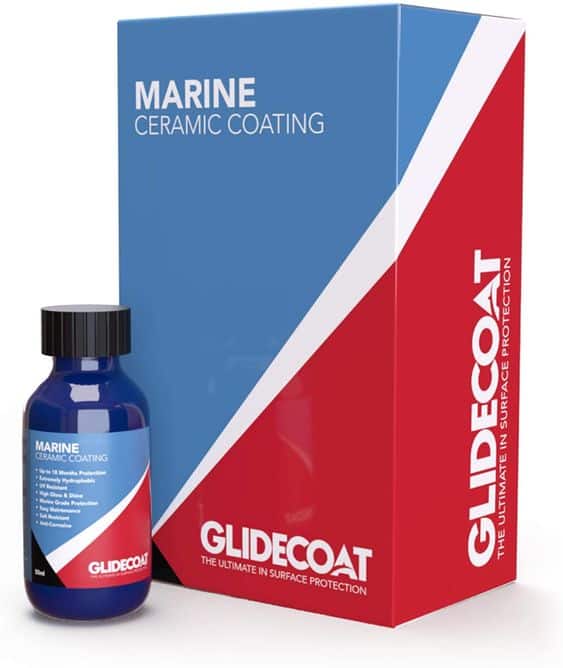 4. GlideCoat Marine Ceramic Coating – 50ml Bottle
We decided to add GlideCoat Marine Ceramic Coating to our list of top 10's because of its superior protection in harsh conditions. A marine-quality ceramic coating is mainly intended to protect against aggressive amounts of exposure to water. So, for those in rainy or snowy areas or those near the coast may benefit from this type of nano-coating.
Why It's the Fourth Pick
PRODUCT QUALITY: This is the only Marine Coating listed in our review for a reason. A lot of people with cars speak well about its effectiveness. However, it can only be used on clear coat surfaces. It's not particularly good on glass, plastic, or chrome. It's mainly intended for fiberglass surfaces.
CUSTOMER FEEDBACK: It's hard to beat a perfect 5 for 5 ratings on Amazon. However, only 3 people have reviewed it – so, keep that under consideration. Another "flag" is the lack of information online about what's included in the box.
PRICE: At $85.00 it's still a little high on the price chart. It's intended to last 18-months as well, so if you refer to the price chart above in the article, that's stretching the "Value" proposition. On the good end, it's a 50ml bottle, so (1) kit should handle most cars.
ONLINE PRESENCE: The company is quiet on social media, with a limited following on Facebook. Not sure about the customer service or support, as reviews on ceramic coating are sparse.
5. Nano Bond Ceramic Coating
5. Nano Bond Ceramic Coating
While we've listed Nano Bond #5 on our list of good DIY Ceramic Coatings for cars, an argument could be made to elevate it a bit higher. On the surface, the product appears to be similar to our top contender. They claim that it holds up to three years, has a heat resistance above 700 degrees, and a new formulation with a SiO2 percentage around 80%.
However, when I read reviews from some customers, a few flags are raised. First, this appears to be a product that is sensitive to prep work. To be honest, all-ceramic coatings are directly impacted by the quality of your prep work. They recommend applying it in a garage and out of direct sunlight.
The main "flag" is the cost. A superior product on best ceramic coating like this (by the ratings and the claims) should be no less than $60 to $70. But, at $34.90, that just doesn't seem right. Also, using the phrase Diamond Protection is misleading. 9H is the hardness rating, but that's based on the pencil scale – or as hard as Quartz. So, buyer beware.
Why It's the Fifth Pick
PRODUCT QUALITY: By the numbers, the product appears great. 80% SiO2, three years of expected longevity, and a kit that looks very professional. Prep work seems to be more critical than others, but that's to be expected with any Nano Coating.
CUSTOMER FEEDBACK: A great number of positive reviews on Amazon.com. In our research, it is hard to find other details about Nano Bond.
PRICE: At $34.90 – it's the lowest priced coating on our list. Again – the product might be wonderful, but that extremely low price point does raise some warning flags.
ONLINE PRESENCE: No presence other than on Amazon.com.
6. Drexler Ceramic Coating Kit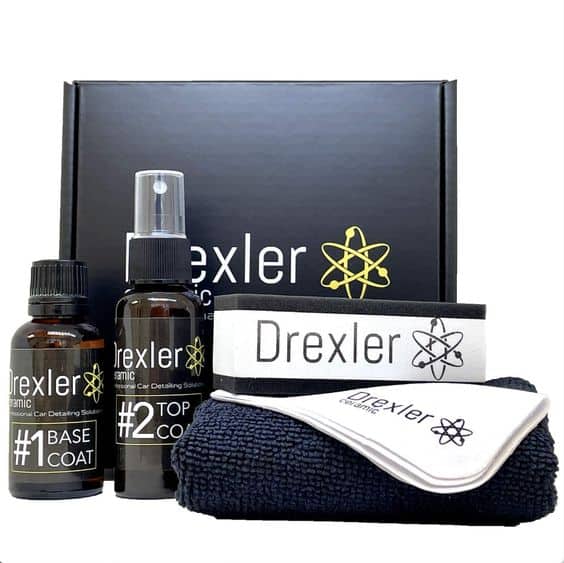 6. Drexler Ceramic Coating Kit
Continuing with our Top 10 list of DIY ceramic coatings comes our entry from France. Drexler Ceramic Coating Kit is a two-phased application process – with a base and top-coat applied. This method is quite similar to many professional-grade ceramic coating products on the market. And that alone is why it's dropped down on our list of DIY ceramic coatings.
This is a product that is meant for the experienced DIY car care enthusiast. It takes more time to complete correctly, but if you know how to do it, and have the patience, the results can be extraordinary. The price is right – around $69 for a kit good enough for the average compact – and the three-year expected longevity fits in the price scale of giving a good value proposition.
Why It's the Sixth Pick
PRODUCT QUALITY: There is no denying the quality of this product. It's highly rated by professional and experienced detailers and those who have paid detailers to apply for them. The three-year longevity is a positive as well. The main pain point is the dual-step application process.
CUSTOMER FEEDBACK: 4.3 out of 5 in the review department on Amazon does raise a few flags. Mainly it's inexperienced customers who have complaints about the prep and application process.
PRICE: At $69.90 it fits well within the value window.
ONLINE PRESENCE: Strong social media game. They've got a few thousand followers on Facebook and Instagram. Getting replies from them are not as exceptional.
7. HydroSilex Recharge – Spray-On Ceramic Coating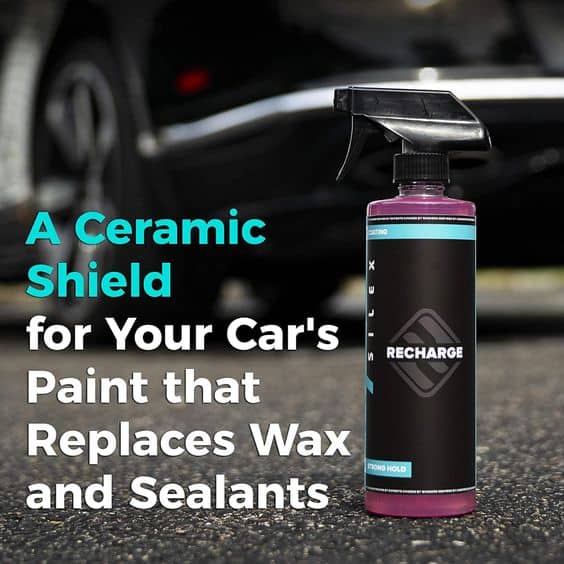 7. HydroSilex Recharge – Spray-On Ceramic Coating
The final four on our list are spray-on ceramic coatings. As explained above, the spray-on versions are much more user friendly, but only hold up for about 6 months. Most of them, like HydroSilex Recharge, can be used as a stand-alone coating or used as a ceramic booster – when used with that company Nano Coating.
HydroSilex Recharge claims a powerful blend of SiO2 (Silicon Dioxide) and TiO2 (Titanium Dioxide). The highest-level nanocoatings, like our #1, also contain TiO2 in their formulations. However, it's a bit fuzzy as to how much SiO2/TiO2 is in this spray-on formula. Most of the best ones hover around a combined 18 to 20-percent.
Why It's the Seventh Pick
PRODUCT QUALITY: Longevity of only six months at best. A spray-on ceramic coating is meant to be layered, meaning you can apply a coating, then reapply after washing your vehicle a few months after. If you do this every three month or so, your protection level should never reduce.
CUSTOMER FEEDBACK: 4.4 out of 5 on Amazon.com. The main issue with spray coatings is the potential of overspray. First, like their Nano Coating cousins, you can't apply these products in direct sunlight. If you can – it's not a true ceramic coating. It's likely a polymer-based product. To avoid this – consider using a microfiber applicator pad. Spray the product on the pad, apply on the vehicle, then buff off with a clean microfiber buffing towel.
PRICE: This product is priced at around $35, which is the average for high-quality SiO2 Boost Sprays. That's for a 16oz bottle, which should be enough for about 3 to 4 applications – or a year. You can also buy larger bottles if you're into volume discounts.
ONLINE PRESENCE: 36,000 Facebook followers can't be a bad thing. The only problem is their last updated post is from January 2020. Not certain about the quality of customer care.
8. Mothers CMX Ceramic Spray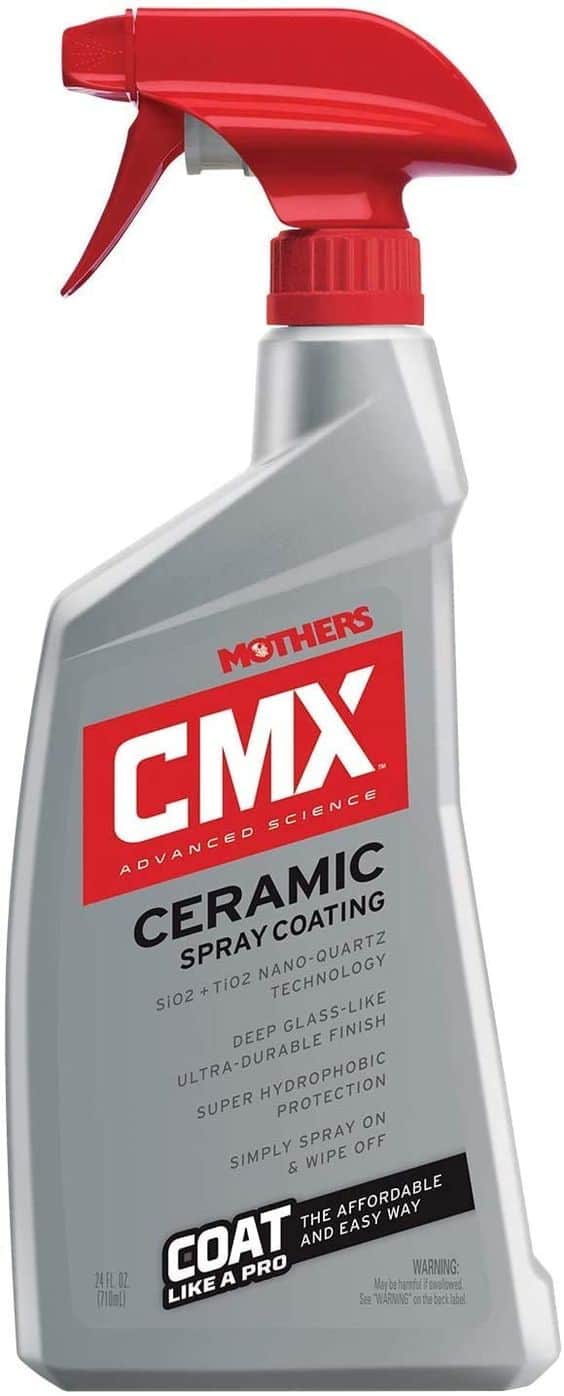 8. Mothers CMX Ceramic Spray
Another decent spray-on coating is Mother's CMX Ceramic Spray. The company is known as a leading provider of wax and paint sealants but has stepped up its ceramic coating for game with CMX. It's likewise a SiO2 and TiO2 blend, with some additional polymer ingredients which provide a durable and hydrophobic coating.
Mothers claim the coating will cure within 24 hours (making sure not to get the vehicle wet) and should hold up for several months.
Why It's the Eighth Pick
PRODUCT QUALITY: If you're looking for a cheaper spray-on ceramic coating (that is best used as a stand-alone) Mother's CMX is a good option. It's priced right – coming in less than $20 per 24-ounce bottle. Assuming you apply every three months, you should get three applications out of it.
CUSTOMER FEEDBACK: This product rates 4.6 out of 5 on Amazon.com with nearly 1,000 reviews. That's a great standard for a spray-on product. Most of the feedback says that it's simple to spray and remove.
PRICE: At $18.95, this is the lowest-cost DIY ceramic coating. However, with the lower price comes the expected reduced longevity. As such, you should apply every two to three months for optimal protection.
ONLINE PRESENCE: Mother's has a huge social media presence. It's a brand that is well regarded and has a solid reputation. If you're looking for a good stand-alone DIY coating, this is a good short-term option.
9. Wolfgang Concours Series WG-3500 Silica Spray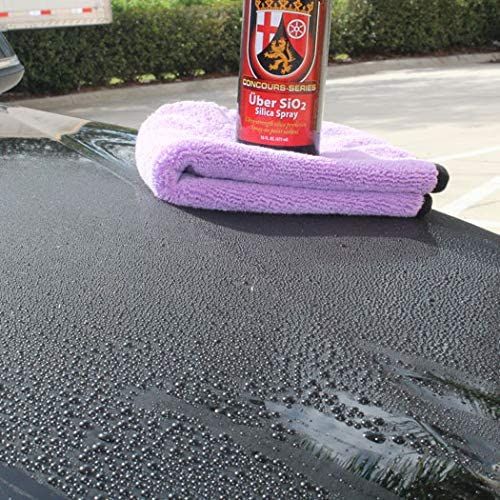 9. Wolfgang Concours Series WG-3500 Silica Spray
The penultimate item on our list of DIY ceramic coatings is this one from the Wolfgang Concours Series. Their WG-3500 Uber SiO2 Silica Spray is a rather potent blend of SiO2, TiO2, and Polymers. And based on the strong chemical aroma when used, it's not a shock that this formula is potent stuff. That's the main reason why we've listed it number 9 on the list.
Don't get us wrong, when you prep your vehicle correctly, apply this product and let it cure, it'll hold up for a solid four to six months. However, it's not pleasant to apply. When you read many of their online reviews, many customers opt to wear a mask. Plus, at nearly $35 per 16oz bottle, it's among the more expensive products to be used as a stand-alone.
Why It's the Ninth Pick
PRODUCT QUALITY: On the quality of application and results – this product is near the top of all spray-on DIY ceramic coatings. With regards to its smell and potential for overspray that is hard to remove, it's near the bottom. There is a solution to reduce these problems (besides the rich chemical smell) and that's to apply it to a microfiber applicator cloth – then wipe on the vehicle one section at a time.
CUSTOMER FEEDBACK: This product rates 4.2 out of 5 – the lowest on our list. However, that's only three samples – so that's hard to provide a fair comparison. One reviewer stated, "they were disappointed that the sprayer arrived broken" and the "bottle was leaking" upon arrival.
PRICE: At $35.99 it's on par with other high SiO2 blended Boost Sprays.
ONLINE PRESENCE: They've got quite a following on the popular social networks, and their reply rate is fair.
10. Ethos Ceramic Wax 9H
10. Ethos Ceramic Wax 9H
The last item on our list is a special product. It's not a spray, but a 'wax-on' type of ceramic coating. It's similar to Mother's CMX in the formulation as it's branded as a 3-in-1 solution. While it's difficult to tell for certain of its ingredients, it does produce hydrophobic properties that stand up for about a year. In fact, the manufacturer claims that it "Last 10X longer than traditional carnauba wax and polymer sealants."
One possible hint of its blend is hidden in one of their selling points – "PATENTED Teflon Resins" – which technically is a "ceramic" – just not SiO2 in the formulation. If you're a passionate DIYer, that loves to 'wax' – looking for a better option – Ethos Ceramic Wax 9H receives top marks by many satisfied customers.
Why It's the Tenth Pick
PRODUCT QUALITY: A claim of lasting 10X longer than carnauba wax would place it at providing three years of protection. That's a rather aggressive claim for a wax on product. So, buyer beware on that.
CUSTOMER FEEDBACK: This product rates 4.6 out of 5 with more than 400 ratings. So, they must be doing something right.
PRICE: The cost of this product changes frequently on Amazon – from as low as $28 to $35.
ONLINE PRESENCE: They've got quite a following on the popular social networks, and their reply rate is fair.
Buying Guide For The Best DIY Ceramic Coatings
What Are the Benefits of a Ceramic Coating?
There are a ton of exceptional videos, Instagram posts, and even word of mouth advertising that boast all the benefits for ceramic coating products. However, there are a few misconceptions as well. When you break it down simply, a ceramic coating is designed to amplify what's underneath. It doesn't restore the shine of faded paint – but, it can restore brilliance on plastic trim.
This is a major reason why all manufacturers of ceramic coatings recommend completing paint correction on cars older than a year – or those with any minor scratches or paint fading. When the prep work is completed as directed, and the product is applied as recommended, the benefits of ceramic coatings are plentiful.
1. Exceptional Protection:
Car wax or paint sealant does a fine job of providing a strong layer of protection on paint and some other vehicle surfaces. However, the nano-ceramic coating is much stronger. In fact, natural paste wax will only hold up for about 3 months, paint sealants for maybe a year, with a nano-coating lasting a few years.
2. Reduces the Potential of UV damage, Oxidation, or Rust:
The ceramic coating's main ingredient is Silicon Dioxide or SiO2. The higher the percentage of SiO2, the stronger and longer-lasting the protection. It blocks UV rays from penetrating the paint surface, which eliminates the potential of oxidation – which leads to corrosion and rust.
3. Longer Lasting and Cost-Effective:
Applying a nano-ceramic coating will provide much more protection than wax or sealants – up to 3 to 5 years in some cases. When you factor the time and expense of removing wax, reapplying, and doing that every three months, you'll save a ton with ceramic coatings.
4. An Exceptional Finish:
When you apply the coating onto a clean and damage-free paint surface, it produces an incredible finish. For vehicles with gloss paint, the vehicle's brilliance will pop – especially in direct sunlight. People with a matte finish notice that the matte appears much deeper.
5. Can be Used on Any Porous Surface:
A high-quality DIY nano-ceramic coating can be used on any vehicle surface that is solid and porous. This includes a clear coat of paint, windows, headlights, and taillight covers, wheels, plastic trim, and more.
Are There Different Types of Ceramic Coatings?
YES. And this is especially important to clarify. By definition, a "ceramic" substance is inorganic in nature. This means that the term can be used loosely to describe ingredients that help to replicate some benefits.
There are essentially three different type of products that use the term "ceramic coating".
1. SiO2 Infused
When nano-ceramic coating was introduced by NASA, it used nanotechnology and a blend of Silicon Dioxide or SiO2. This ingredient is essentially liquid Quartz. When it is applied to a surface, the nano-technology penetrates microscopic imperfections found on porous surfaces, like clear coats for example. It fills those minor imperfections, then leaves a solid layer of 9H hardness.
Generally, the higher the SiO2 percentage and the stronger the purity level – the harder the coating will cure, and the longer it will last.
2. Polymer-Based
A polymer is – by definition, is NOT a ceramic material. But, some "ceramic coating sprays" are comprised mainly of polymer-type ingredients. They will bond to vehicle surfaces but does not have the hardness due to a lack of SiO2.
Since there are virtually no regulations guarding the classifications of vehicle care products, it's important to complete some research with regards to whether they are truly ceramic in nature.
3. Hybrid Solutions
The final classification of ceramic coatings are ones that are typically spray-on products. This would be the hybrid class, where the ingredients are a proprietary blend of SiO2, Polymers, and sometimes, even wax of the synthetic nature.
These are the easiest to apply, and the cheapest, but they are the ones that don't hold up as long.
Breaking Down the Ceramic Coating Costs
In the DIY ceramic coating world, you really get what you pay for. There are three price categories, that tend to describe the level of paint protection product that you should expect.
Under $30:
These products are typical of the hybrid spray variety. You can expect to get no more than six months of protection on your vehicle.
$30 to $60:
When you pay for ceramic coating products at this level, the paint protection longevity can double – to about a year to 18-months.
Above $60:
At this price-point, if a ceramic coating does not back up their expected warranties for at least two years, it's a waste of your investment.
Final Thoughts
The ceramic coatings listed above will do a great job protecting your vehicle from exposure to UV rays, road grime, bug splatters, and bird droppings. However, each of them also requires solid prep work, and following the explicit directions for applying.
Take time to review the list above and find out more about each that appeals to you. If you complete a few hours of research, ask questions of the manufacturers, and previous customers – finding the perfect DIY ceramic coating will be easier than you'd think.