If you're looking for the best ceramic coating for planes, you're in the right place. Our 2020 Buyer's Guide gathers the top 8 aircraft ceramic coatings and gives you insights into the aircraft detailing industry leaders.
We're sure that you're eager to spend some time in the hanger working on restoring and protecting the paintwork of your aircraft. Moreover, all of these products are designed for both DIY and professional applications and require a certain time, effort, and patience on your part.
However, before you dive into the guide, we have to remind you about one very important thing when it comes to applying a ceramic coating to an aircraft. The process is straightforward but you must follow the Federal Aviation Administration (FAA) regulations. Do not apply the ceramic coating on specific areas of the aircraft. Those are, for instance, the front part of the wings of the aircraft that have tiny holes specifically designed for deicing fluid which must not be coated under any circumstances.
Once again, please make sure you comply with FAA regulations to enjoy your aircraft experience safely.
Now, let's see what are the best products on the market that can restore the shine and glory of your aircraft and protect its coat of paint.
Top 8 DIY Ceramic Coating For Planes Reviews
Explaining the Ranking System
First, it would be wise to become familiar with our ranking system to see if our parameters match your expectations. There are four major categories we paid special attention to and those are:
1. Product quality
The ceramic coating for planes formula has the main role in product quality and hugely affects the ease of application, product durability and longevity, and other important ceramic coating features such as UV protection, hydrophobic properties, and self-cleaning, to name a few.
2. Consumer feedback
Reviews are precious sources of information where one can find out quite a lot about the real customer service and shipping times, for example. Also, reviews can often contain valuable before and after images and authentic consumer feedback that help us make purchasing decisions.
3. Price
Price is another important category of our ranking system. We were aiming to discover which product provides the best value for the money, making it the optimal return on investment.
Please note that the products in the Guide are the ones we found at the time of making the review. Therefore, make sure to check for the latest product prices.
4. Online presence
Company websites and social media give out information about company values and interaction and engagement with their customers and community. The digital economy requires a highly active and high-quality online presence and experience and that's why we included it in our ranking equation.
What Are the Benefits of a Ceramic Coating for Planes?
A ceramic coating is a protectant which protects the coat of paint from external environmental impacts and pollutants. All of those elements affect the paint which starts degrading and oxidizing over time. The paintwork gets brittle and very porous especially in highly demanding conditions such as air travel. As it becomes easier for the pollutants to get in and cling on the surface of your aircraft, it becomes really hard to clean and maintain it and the paint loses its luster. Mind you, ceramic coating your jet is not only about pride ownership and the shine and gloss of your precious aircraft. It's about protecting your plane and maintaining/restoring its value.
1. Exceptional Protection:
First things first, and that's paint protection. When applied, ceramic coating for planes chemically bonds with the surface coat of paint. It fills all the micropores which prevents the contaminants from coming in and damaging the jet surface over time. It creates a shield if you will which has far greater protection capacities than regular waxes and paint sealants.
2. Reduces the Potential of UV damage, Oxidation, or Rust:
As we mentioned, the paint starts degrading over time as your plane is highly exposed to damaging UV sun rays, water, industrial pollutants, and other contaminants. Thanks to their supreme protective formula and nanotechnology, ceramic coatings prevent harmful micro and nanoparticles from creating macro damage. Paint fade, oxidation, and rust are the result of the accumulation of pollutants on the surface "weak spots" or places that have scratches and damages that might not be so invisible to the eye.
3. Longer Lasting and Cost-Effective:
Compared to traditional waxes and paint sealants, ceramic coatings have a much longer lifespan. Jet ceramic coatings are designed to last from 2 up to 5 years, which is a much, much longer working life than around 3 months for waxes and around 6 months to more advanced sealants. So, you can save money and precious time.
4. An Exceptional Finish:
The amazing glow and shine that your paint gets once a ceramic coating is applied are superb. So that means that you get paint protection, cost- and time-effectiveness, and aesthetics all in one. Paint is restored and lightened which really makes a difference especially if you use the plane for commercial and business purposes.
5. Can be Used on Any Porous Surface:
Plane ceramic coatings can usually be applied to any porous surface such as metal, glass, plastic, and other materials. All plane surfaces are exposed to tough conditions and durable protectants like ceramic coatings prevent their premature deterioration.
Convinced yet? Yes, we thought so, that's how we first felt when we discovered the benefits of ceramic coatings.
Here's our list of top 8 ceramic coatings for planes.
Best ceramic coating for planes in 2020 and beyond
Armor Shield IX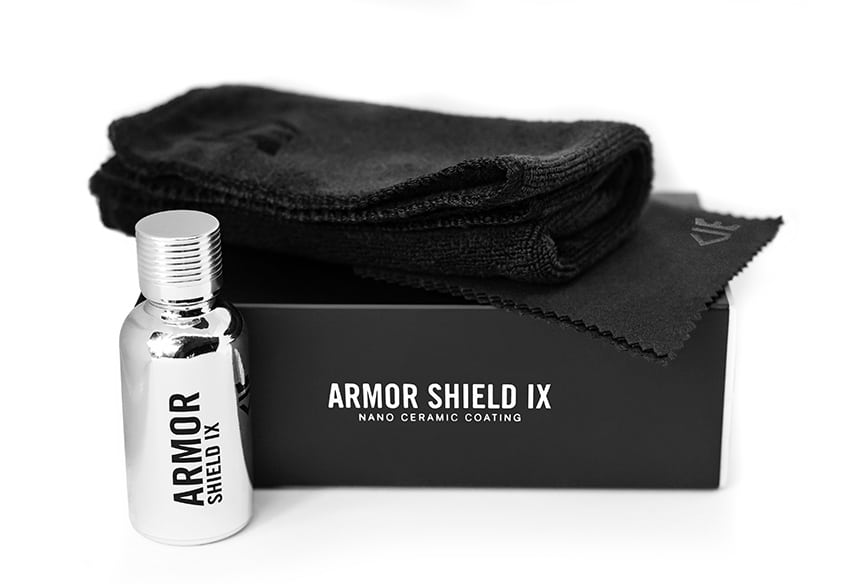 1. Armor Shield IX DIY ceramic coating
Place No. 1 in our Buyer's Guide goes to Armor Shield IX DIY ceramic coating by AvalonKing. This protectant has the best overall score and provides the best performance and value for the money.
Armor Shield IX contains 84% SiO2 which is the key compound of nano ceramic coatings. It chemically bonds to the surface, creates a protective layer, and does not require frequent re-application. This makes it one of the most durable and high-protection products on the market. Speaking of durability, Armor Shield IX can last up to 5 years which is a great investment considering that the price of a 30 ml bottle kit is $69.99.
It's also one of the easiest ceramic coatings for application hence the DIY attribute. We've seen both detailing enthusiasts and professionals providing great feedback on the experience with this ceramic paint protectant. Last but not least, the Armor Shield IX DIY kit contains all the things you'd usually need for applying a ceramic coating which are a 30 ml spill-proof bottle of Armor Shield IX; an application sponge, three applicator suedes, a pair of nitrile gloves, and a microfiber towel for buffing.
Why It's Our Top Pick
PRODUCT QUALITY: Armor Shield IX is the best consumer-grade product on the market. It has amazing hydrophobic properties, restores the gloss of the paint miraculously, and has great self-cleaning properties. This means that the paint surface is incomparably easier to clean and maintain as the pollutants are prevented from clinging onto the surface. All that thanks to the nanotechnology formulation and composition of Armor Shield IX.
CUSTOMER FEEDBACK: The reviews we've seen are highly positive with over 96% of customers who would recommend the product. AvalonKing and Armor Shield IX have over 2.1k reviews directly on their website, many of which contain great before and after pictures of satisfied customers.
PRICE: At the time of writing the review, the price of the Armor Shield IX kit was $69.99 which makes it one of the most cost-effective products. AvalonKing also offers great prices for buying multiple kits.
ONLINE PRESENCE: As mentioned, they have a website where they maintain active interaction with their customers. AvalonKing also has a highly-engaged Instagram community with over 13.8k followers. Both the company's blog and social media offer great content to anyone interested in detailing.
Here Are The Facts
84% SiO2 which makes it a high-grade consumer and prosumer product
Buy 1, get 2nd 50% off, buy 2, get 1 free
Free shipping in the US and Canada, free shipping for 2+ kits purchases worldwide
Easy to apply once the prep work is done properly
Nasiol ZR53
2. Nasiol ZR53 Nano Ceramic Coating
Nasiol ZR53 by Nasiol Love & Protect The Original, a registered brand of Artekya Technology Ltd. Co. It is a protective ceramic coating which offers paint protection lasting minimum 3 years. Nasiol ZR53 has great anti-scratch and water-repellent properties and high resistance to detergents. This quality in combination with the formulation secures a deep gloss of the paintwork. Applying Nasiol ZR53 is easy and one layer is enough to provide effective protection of the aircraft surface. The kit contains a 50 ml bottle, two microfiber cloths, 10 application pads, and two pairs of protective gloves.
Why It's Our Second Pick
PRODUCT QUALITY: The ceramic coating has powerful properties and offers protection against different types of pollutants and environmental contaminants.
CUSTOMER FEEDBACK: Nasiol ZR53 has 133 global ratings and a 4.3-star rating on Amazon.
PRICE: The Nasiol ZR53 kit comes at a price of $119.90.
ONLINE PRESENCE: Nasiol has a great online presence and blog with interesting detailing-related content. The brand also gathers 32k followers on Instagram.
Crystal Serum Light
3. GTECHNIQ CSL Crystal Serum Light
Crystal Serum Light by Gtechniq is the third runner-up ceramic coating and is also another high-performance product on the market. It's ultra-durable and chemically bonds to the surface and creates a clear ceramic protective layer. It offers high resistance to chemicals, tree sap, hard water spots, and swirl marks. What's more, it can resist tough conditions and temperatures in the range from -40 to +250 ℃ or -40 to 482 °F. CSL also has a great glossy finish and self-cleaning properties. With regard to durability, Crystal Serum Light has between 3 to 5 years of durability.
Why It's Our Third Pick
PRODUCT QUALITY: CSL belongs to high-quality ceramic coatings thanks to its chemical composition and durability. The working life of the applied product is equally impressive with up to 5 years of protection. It possesses hydrophobic properties.
CUSTOMER FEEDBACK: We checked the customer reviews on Amazon where CSL has a 4.8 out of 5 stars which confirms its quality. Customers report having a great experience with the product and achieving top results, especially when it comes to the ease of application and high gloss.
PRICE: Crystal Serum Light goes for $67.98 for a 30 ml bottle kit.
ONLINE PRESENCE: Gtechniq has a great online presentation and website content and an amazing Instagram community of 48.3k followers.
CQ.UK 3.0
4. CarPro CQuartz
CQ.UK 3.0 by CarPro, a brand by Sky's the Limit Car Care, is an improved formula of their original ceramic coating. It protects the paint against chemicals, UV, and other harmful environmental pollutants. CQ.UK 3.0 has a high content of SiO2 or silica-quartz which chemically bonds to the painted surface and creates a hard protective layer. Hydrophobic properties, dirt repellency, and product durability are additional great qualities of this paint sealant. The 50 ml CQuartz UK 3.0 kit contains one foam applicator block and four microfiber suede applicators.
Why It's Our Fourth Pick
PRODUCT QUALITY: Improved formula of the product provides additional protection and a wider range of recommended application ranges (40F to 100F). Can be applied to paint, metal, and plastic.
CUSTOMER FEEDBACK: CQ.UK 3.0 has 4.7 out of 5 stars on Amazon which is an overall score from 583 ratings. Many reviews report showroom-like shine.
PRICE: The price of a 50 ml bottle kit is $77.99.
ONLINE PRESENCE: A great website with useful blog content and a great Instagram community of 31.1k followers.
Q2 MOHS
5. GYEON Quartz MOHS
Q2 MOHS by Gyeon quartz is a ceramic coating with great hydrophobic properties. It's designed to last at least 18 months and during that period of time, it protects the paint surface against all harmful environmental impacts (UV, water) and pollutants (exhaust, insects, bird droppings). Q2 MOHS is applied easily and can be used by detailing enthusiasts and professionals alike. Apart from paint protection, it adds a great amount of gloss and shine to the surface.
Why It's Our Fifth Pick
PRODUCT QUALITY: This ceramic coating product is of great quality and offers a range of benefits. Compared to other products, it has a slightly shorter lifespan.
CUSTOMER FEEDBACK: MOHS has 4.4 out of 5 stars on Amazon and 42 reviews in total.
PRICE: The price of this paint protectant starts at $99.99 for a 30 ml bottle kit.
ONLINE PRESENCE: Gyeon quartz has a great online presentation with amazing content on their website and staggering 118k followers on Instagram.
Hendlex Ceramic Coat FS60
6. Hendlex Car Paint Coating Ceramic Coat
Ceramic Coat FS60 by Hendlex creates a layer of ceramic particles with highly hydrophobic and self-cleaning properties. It protects the paint surface from scratches, dust, bird droppings, and UV sun rays that cause paint fading. It is a product that can be used by anyone no matter their detailing skill level. FS60 kit contains 1.35 oz or around 40 ml bottle of ceramic coating, 2 microfiber cloths, 1 application cloth, and a pair of protective gloves. The product has great durability and provides up to 2 years of paint protection.
Why It's Our Sixth Pick
PRODUCT QUALITY: This is a quality product with great properties with a solid lifespan for a ceramic paint protectant.
CUSTOMER FEEDBACK: The product has a slightly lower ranking on Amazon compared to the other products in our list with 4 out of 5 stars and a total of 42 ratings.
PRICE: The price of the 1.35 oz kit is $65.99.
ONLINE PRESENCE: Hendlex has a great website with interesting video content demonstrating their products for different industries and a modest community on Instagram of 5.4k followers.
Sapphire V1
7. RealClean Sapphire V1 Nano Ceramic Coating
Sapphire V1 nano ceramic protective coating by Real Clean is specially designed for aviation detailing. It has a durable formula with scratch- and abrasion-resistant properties and can handle temperatures up to 1200 °F. Moreover, it has great water-shedding features and offers UV damage protection and exhaust staining on the surface of the plane. Apart from ultra-high gloss and shine, Sapphire V1 has self-cleaning properties which makes plane maintenance and cleaning easier as it prevents dirt, oil, exhaust, insects, and bird droppings from sticking to the surface.
Why It's Our Seventh Pick
PRODUCT QUALITY: The product offers all the benefits of a ceramic coating for planes and is specially engineered for application in aviation.
CUSTOMER FEEDBACK: We couldn't find any reviews on Amazon, and their website contains only three highly positive reviews. Make sure to check some professional detailers' reviews to get a better understanding of the product.
PRICE: A 50 ml bottle of Sapphire V1 goes for $149.95 and as you would need 4 bottles for a single-engine aircraft, it belongs to a higher price category range.
ONLINE PRESENCE: Although the company's in the detailing business since 2007, it would be fair to say that they have a very, very humble online presence. We do believe that their name is familiar in the aviation detailing industry.
Clear Coat – Ceramic Finishing Spray
8. Plane Perfect Clear Coat Hydrophobic Finishing Top Coat Spray
The last product that made it on our list is not a typical ceramic coating product but a hydrophobic finishing top coat spray. Clear Coat by Plane Perfect gives a deep shine to any plane surface. It can be used as a stand-alone product or a top layer for wax or sealant treated surface. As it is a spray, it is extremely easy to apply and can be used on all surfaces including paint, glass, GPS screens, chrome, dashboards, leather, and head and taillight lenses.
Why It's Our Eighth Pick
PRODUCT QUALITY: Clear Coat is a product specially formulated for the aviation industry. It has great properties and can be used by professionals and enthusiasts alike. Clear Coat can also be used on cars and motorcycles.
CUSTOMER FEEDBACK: The product currently has only 4 ratings and a 4.6 out of 5 stars on Amazon.
PRICE: As it is not a ceramic coating but a ceramic finishing spray, the price of only $25.95 does not come as a surprise.
ONLINE PRESENCE: Plane Perfect has a great website with a lot of aircraft detailing videos and a Facebook community of more than 8.5k followers.
Final Thoughts
These were our favorites in the ceramic coating for planes category in 2020 and beyond. We have assessed each of the products and once again confirmed the benefits of ceramic coatings. These paint protectants do so much more than protecting the plane's surface and restoring its shine. Ceramic coatings are a valuable investment as they maintain the value of your aircraft by preventing serious damage from occurring on its paintwork and surface. Without any doubt, we invite you to enter the world of protective nanotechnology and enjoy all the benefits of high-performance aircraft detailing.